Realtors release September and 3rd quarter sales
Rhode Island's single-family home market slows
Warwick, RI – October 20, 2021 -- Residential property prices in Rhode Island continued to escalate in the third quarter, though the first signs of a slowing housing market became apparent. Data released today by the Rhode Island Association of Realtors showed that at $385,000, the median price of single-family homes sold from July through September was 15 percent higher than that of the third quarter of 2020 and reached an all-time quarterly high. Accompanying that price increase, however, was an 8.4 percent slowdown in closed sales from the previous year.
"The single-family home market has been incredibly competitive and the properties that are available for sale are put under contract so quickly, that it appears some prospective buyers took a break. Also, the spread of the delta variant affected the market last quarter, keeping some buyers at home and making some prospective sellers think twice about listing their home," said Leann D'Ettore, President of the Rhode Island Association of Realtors.
The condominium sector also showed a median price gain, though the increase was more conservative. At $272,250, the median price of condos sold in the third quarter represented a 6.8 percent increase from 12 months earlier. Closing activity however, remained relatively flat, rising just .3 percent year-over-year.
In contrast, the multifamily home market showed no signs of slowing. The median price of multifamily home sales saw the largest growth, rising 21 percent to $375,000. And, unlike the single-family home and condominium sectors, closing activity continued at a frenzied pace, increasing 43 percent from the previous year. Low rental vacancies, rising rents and low interest rates appear to be enticements too good to pass up for investors, as well as buyers shut out of the single-family home market.
Out of state buyers still buying a piece of the Ocean State
Buyers from other states accounted for 24.8 percent of total residential sales with the most buyers coming from MA, NY and CT. In the luxury market, buyers from outside of Rhode Island accounted for half of all properties sold for $1 million or more. Coastal markets saw a higher influx of out-of-state buyers.
"Despite the rise in prices, we're still a bargain compared to many other resort areas and larger urban centers," commented D'Ettore.
Third quarter closes with September bringing fewer sales of single-family homes and condominiums
September closed out the third quarter with a slowdown in activity among single-family home sales for the third consecutive month and a year-over-year decrease in condominium sales for the first time in more than a year.
The number of single-family homes sold last month dropped 6.4 percent from the prior year, while the median sales price remained elevated. At $385,000, September's median price rose 13.3 percent from the same time one year earlier. Sales in process but not completed by the end of the quarter- a strong predictor of the market in the months ahead – fell 9.4 percent year-over-year.
The supply of homes available for sale during September remained below that of last year, though slight gains have been made since earlier this year. The 1.8-month supply of homes on the market in September remained far below the six-month supply typically considered to be a market balanced between supply and demand.
Condominium sales fell by 7.6 percent last month though a rise in pending sales shows promise for more closing activity in the fourth quarter. The median price of all condo sales rose 1.9 percent year-over-year to $270,000.
Multifamily homes remained in hot demand as third quarter closed
Closed transactions of multifamily homes grew by 37.6 percent last month from September 2020 despite a hike in the median sales price of 16.2 percent. Pending contracts also increased 18.5 percent indicating that the hectic pace of sales will likely continue through year-end.
"At $380,000, the median price of a multifamily property is nearly as high as that of a single-family home, and in most cases, the returns are there. When you factor in the rents that will offset your mortgage, and the knowledge that rents are climbing because we simply don't have enough units available, these properties appear to be one of the safer investments available for people to build wealth," said D'Ettore.
A September report released by Lawrence Yun, National Association of Realtors Chief Economist, indicated that strong demand for multifamily units has been seen across the country.
Months Supply: Click here for interactive display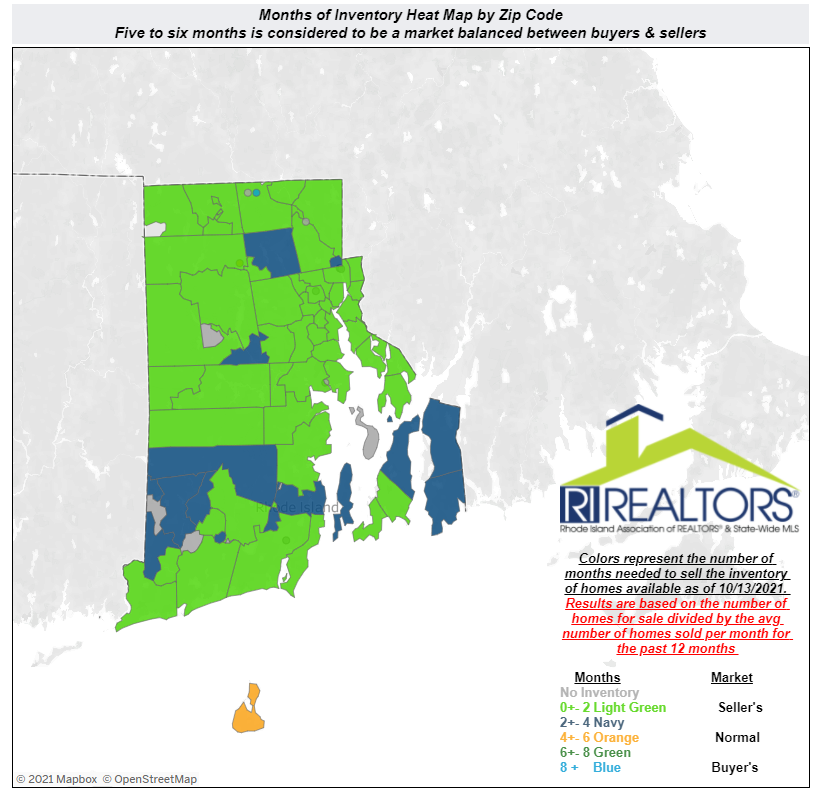 About the Rhode Island Association of REALTORS®
The Rhode Island Association of REALTORS®, one of the largest trade organizations in Rhode Island with more than 5,000 members in nearly 1,000 offices, has been serving Rhode Islanders since 1948. Advocating for Rhode Island's property owners, the Rhode Island Association of REALTORS® provides a facility for professional development, research and exchange of information among its members and to the public and government for the purpose of preserving the free enterprise system and the right to own real property. Last year, RI Realtors transacted $6.9 billion in residential real estate sales and $7.1 billion in total sales and rentals including commercial transactions.
The Association is one of more than 1,500 boards and associations that comprise the National Association of REALTORS® (NAR). The National Association of Realtors®, "The Voice for Real Estate," is America's largest trade association, representing over 1.5 million members involved in all aspects of the residential and commercial real estate industries and who subscribe to a strict Code of Ethics.
REALTOR® is a federally registered collective membership mark which identifies a real estate professional who is member of the NATIONAL ASSOCIATION OF REALTORS® and subscribes to its strict Code of Ethics.