Inventory Shrinks Further in R.I.'s Housing Market
Warwick, R.I. – April 15, 2021 -- Today, the Rhode Island Association of Realtors announced that in terms of supply, the start of the 2021 home selling season has been the leanest on record. With just 1192 single-family homes on the market in Rhode Island, the current inventory is approximately 25 percent less than the previous monthly record low of 1594 in the spring of 2002.
R.I. housing inventory drops significantly in first quarter
Not only has the number of single-family homes for sale averaged roughly half of that recorded during the first quarter of 2020, there seems to be no letup in sight. As of the second week in April, Rhode Island's supply was slightly less than it was the same time last month, when typically, more homes are put on the market as the spring unfolds. At the current rate of sales, if no more listings were added to the supply, no single-family homes would be available for purchase within 1.2 months, continuing a record low set in February.
"Right now, we have the perfect storm of high demand and low supply. We've seen renewed interest in moving to homes that better suit the remote lifestyle add to the demand side, as well as enhanced investor interest sparked by rising rents and prices. Unfortunately, our supply has been constricted by a history of constrained housing construction, especially at the low end. Builders have faced too many costly zoning regulations and now they're also facing unprecedented prices for materials.
"When you think about how many purchases you make for your home, it's easy to understand how housing drives the economy. It's critical that we develop a plan that helps get homes built and gives more options to first-time homeowners," said Leann D'Ettore, president of the Rhode Island Association of Realtors.
First quarter statistics released today by RI Realtors show that the median sales price of single-family homes rose to $330,000, a 13.8 percent year-over-year increase. Sales rose 4.5 percent year-over-year.
The investor-driven, multifamily home market saw even greater gains. The first quarter median sales price of multifamily homes was $335,000, a 16.9 percent increase from January through March of last year. Sales activity also flourished, rising 19.8 percent. Homes closed within 41 days, the shortest time frame of all property types, indicating a prevalence of cash sales not held up by the mortgage process.
"Not only do first-time buyers have a lot of competition in the market overall, but purchasing a home is also made harder by having to compete with investors who have easy access to cash. Typically, the rents gained by those who own and reside in multifamily properties are a big help to homeowners just starting out, but unfortunately, those potential buyers are at an even greater disadvantage in the multifamily home market right now," said D'Ettore.
Condominiums proved to be a good alternative in the first quarter. Sales activity rose 23.2 percent from a year ago while the median price of $282,500, though 7.1 percent higher that first quarter last year, offered affordable options for many buyers.
Multifamily home market sees sharpest gains in March
Single-family home sales have begun to moderate, falling from double-digit, year-over-year increases in the last four months of 2020 to single-digit increases this year. In March, the rate of single-family home sales rose just six percent while the median price increased 11.7 percent.
In contrast, March sales rose 34.7 percent in the multifamily home market, while the median price increased 19.3 percent. The March median price of $340,000 is the highest multifamily home median price since record keeping began in 1988 and was nearly 400 percent above the record monthly low of $69,000 set in April of 2009. No other type of housing has seen gains to that extent.
After seeing sales fall year-over-year for several months in 2020, the condominium market picked up in the last quarter of the year and has maintained a double-digit hike in closing activity each month since. The first quarter closed with the median price of condominiums rising 7.1 percent to $250,000 in March and sales increasing 28.6 percent.
Months Supply: Click here for interactive display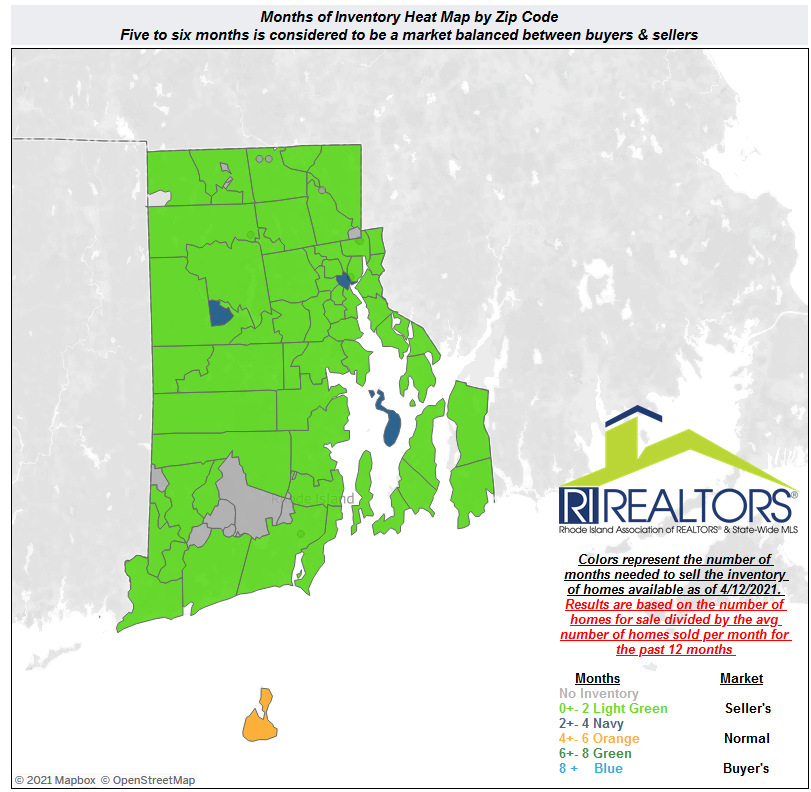 About the Rhode Island Association of REALTORS®
The Rhode Island Association of REALTORS®, one of the largest trade organizations in Rhode Island with more than 7,000 members in approximately 900 offices, has been serving Rhode Islanders since 1948. Collectively, RI REALTORS® transacted nearly $7.9 billion in residential real estate sales last year and nearly $8.1 billion in total transactions including rentals and commercial real estate. Advocating for Rhode Island's property owners, the Rhode Island Association of REALTORS® provides a facility for professional development, research and exchange of information among its members and to the public and government for the purpose of preserving the free enterprise system and the right to own real property.
The Association is one of more than 1,400 boards and associations that comprise the National Association of REALTORS® (NAR). The National Association of Realtors®, "The Voice for Real Estate," is America's largest trade association, representing over 1.4 million members involved in all aspects of the residential and commercial real estate industries and who subscribe to a strict Code of Ethics.
REALTOR® is a federally registered collective membership mark which identifies a real estate professional who is member of the NATIONAL ASSOCIATION OF REALTORS® and subscribes to its strict Code of Ethics.