Home sales drop to level last seen during economic shutdown
Warwick, R.I. – November 17, 2022 – Rhode Island's home sale trends stayed steady in October, according to a report released today by the Rhode Island Association of Realtors. At $405,000 the median sales price of single-family homes rose 7.3% last month from October 2021. The ratio of list price to sales price remained stable at 100%.
The number of single-family homes on the market fell 7.9% year-over-year, not surprising given rising interest rates and fewer options available for sellers to move to.
Sales activity dropped 20.1% from the prior year while pending sales – those sales under contract but not through the closing process in October - dropped 40.9% from the previous year. Pending sales are the leading indicator of sales activity in the near future.
"We're seeing an interesting real estate market right now. On the one hand, sales activity has fallen to about the same level as we saw during the economic shutdown of 2020. On the other hand, even with sales dropping, inventory is so tight that prices aren't plummeting. The good news is that inflation started to come down last month and if that continues, we should see a drop in rates. That will jump start the market again but even with that, we still have a supply problem to correct before we will see a balanced market again," said Bryant Da Cruz, president of the Rhode Island Association of Realtors.
In the condominium market, the median sales price rose 18.5% from October 2021 to $319,900. The number of listings fell by 22.3% however, and closed sales fell 26.2%. Pending sales dropped year-over-year by 43.4%.
In the multi-family home market popular with investors, the median sales price rose to $437,500, a 15.1% hike as the number of listings fell 25.3% from 12 months earlier.
Economic uncertainty also helped fuel a sharp drop in multifamily home sales, which plummeted 44.7%. Pending sales also dropped by 43.6% from 12 months earlier, indicating a continued slowdown in the months ahead.
The Rhode Island Association of Realtors reports year-over-year changes to avoid fluctuations due to seasonality. The Association reports median sales price rather than average price to eliminate the swings in value caused by significant outliers. The data is pulled from all Realtor-assisted transactions within the State-Wide Multiple Listing Service, a subsidiary of the Rhode Island Association of Realtors.
Months Supply: Click here for interactive display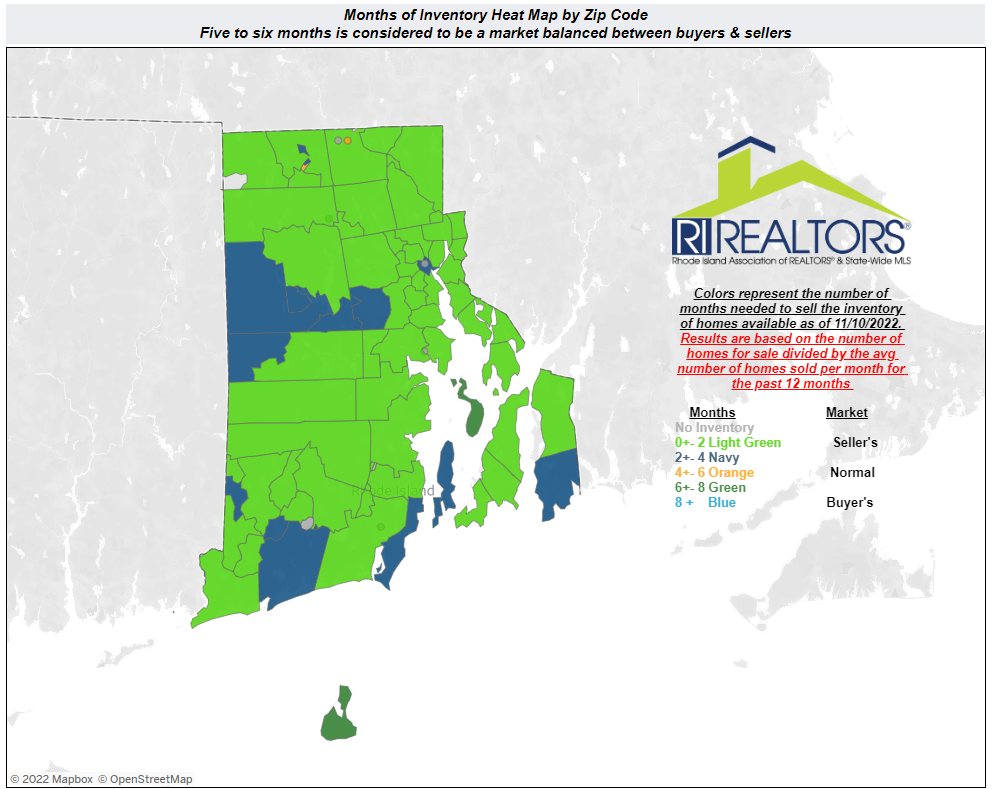 About the Rhode Island Association of REALTORS®
The Rhode Island Association of REALTORS®, one of the largest trade organizations in Rhode Island with more than 7,000 members in approximately 900 offices, has been serving Rhode Islanders since 1948. Collectively, RI REALTORS® transacted nearly $7.9 billion in residential real estate sales last year and nearly $8.1 billion in total transactions including rentals and commercial real estate. Advocating for Rhode Island's property owners, the Rhode Island Association of REALTORS® provides a facility for professional development, research and exchange of information among its members and to the public and government for the purpose of preserving the free enterprise system and the right to own real property.
The Association is one of more than 1,400 boards and associations that comprise the National Association of REALTORS® (NAR). The National Association of Realtors®, "The Voice for Real Estate," is America's largest trade association, representing over 1.4 million members involved in all aspects of the residential and commercial real estate industries and who subscribe to a strict Code of Ethics.
REALTOR® is a federally registered collective membership mark which identifies a real estate professional who is member of the NATIONAL ASSOCIATION OF REALTORS® and subscribes to its strict Code of Ethics.