Rate of sales moderating in R.I.'s housing market
Warwick, RI -- March 19, 2021 - February home sales data released today by the Rhode Island Association of Realtors shows evidence of a moderating market. While still up over last year, the year-over-year increase in single-family home sales fell to just two percent in February, compared to a seven percent increase in January and a more than 20 percent gain in the months of September through December 2020.
A supply of only 1137 single-family homes available for sale across Rhode Island left buyers with fewer options than ever before. While last year's strong sales activity shored up the economy during the pandemic, it further diminished housing inventory, causing supply to fall to record lows.
Without a restoration of balance to the market, affordability issues will arise for more Rhode Islanders. The median price of a single-family home in February was $320,000, a 16.4 percent increase from 12 months earlier.
While pending sales also showed an increase of 9.2 percent from February 2020, the rate of increase slowed considerably from prior months. A strong predictor of future market trends, pending sales had shown double-digit increases year-over-year for the previous eight months. It remains to be seen if this year's diminishing rate of increase will become a trend or is simply a short-term dip.
"It appears that we might not be seeing the same frenetic pace of closing activity in the months ahead that we saw when the market reopened after the COVID shutdown, but buyer demand is still strong. What we need now are more properties to sell. Last month, we had fewer than half as many listings as we had the previous year. I strongly encourage homeowners who have been thinking of selling to give it serious thought. Speak with a Realtor to go over your options. If you can make the move, you'll reap the rewards of a strong sellers' market," said Leann D'Ettore, president of the Rhode Island Association of Realtors.
Condominiums remained a more affordable option with a median price of $240,000, a mere 1.6 percent gain from February 2020. Sales were up 14 percent year-over-year and pending sales were up 42 percent, an indication of strong closing activity in the next few months. Inventory continued to fall for the 21st consecutive month.
After a brief decline in January, the multifamily home market resumed strong sales momentum last month, rising 26.8 percent from 12 months prior. The median price of those sales rose 19.4 percent to $335,000.
In stark contrast to other sectors of the market, the number of listings rose year-over-year for the third time in the past four months. This trend could be attributed to deferred or lost rents due to the pandemic and the enhanced hardships of showing multifamily housing during the shutdown and beyond.
"Some investors in multifamily properties really struggled through the pandemic. However, looking forward, the huge demand for rentals is increasing every day due to the shortage of available homes for sale. Plus, multifamily homes are great options for first-time homeowners who are finding themselves shut out of the single-family home and condo markets. Those are strong enticements for buyers which should keep sales activity moving in this part of the market," commented D'Ettore.
The statistics reported by the Rhode Island Association of Realtors represent all Realtor-assisted transactions recorded through the association's subsidiary, State-Wide Multiple Listing Service.
Months Supply: Click here for interactive display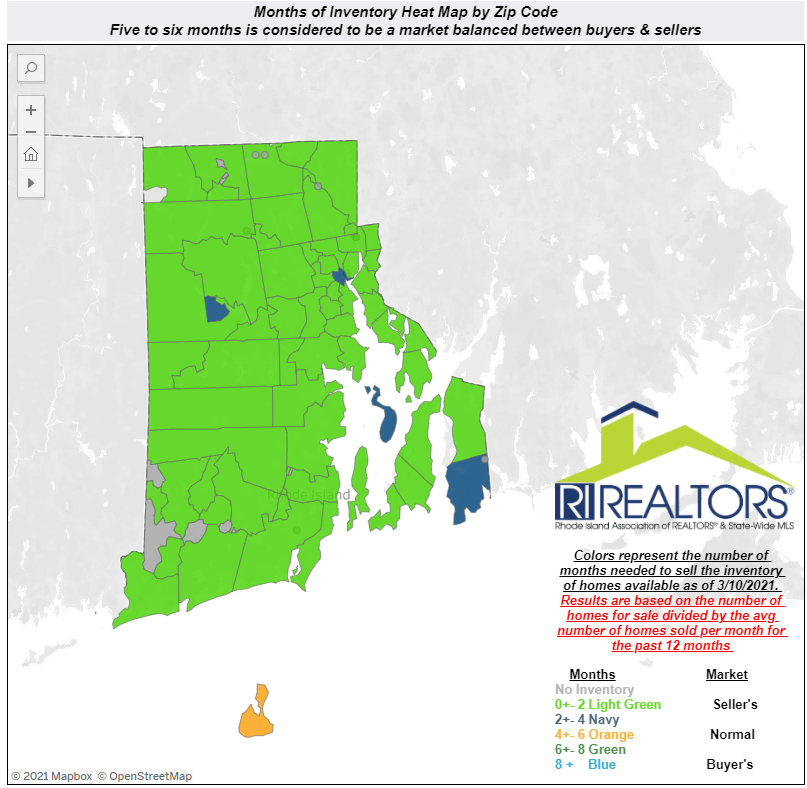 About the Rhode Island Association of REALTORS®
The Rhode Island Association of REALTORS®, one of the largest trade organizations in Rhode Island with more than 7,000 members in approximately 900 offices, has been serving Rhode Islanders since 1948. Collectively, RI REALTORS® transacted nearly $7.9 billion in residential real estate sales last year and nearly $8.1 billion in total transactions including rentals and commercial real estate. Advocating for Rhode Island's property owners, the Rhode Island Association of REALTORS® provides a facility for professional development, research and exchange of information among its members and to the public and government for the purpose of preserving the free enterprise system and the right to own real property.
The Association is one of more than 1,400 boards and associations that comprise the National Association of REALTORS® (NAR). The National Association of Realtors®, "The Voice for Real Estate," is America's largest trade association, representing over 1.4 million members involved in all aspects of the residential and commercial real estate industries and who subscribe to a strict Code of Ethics.
REALTOR® is a federally registered collective membership mark which identifies a real estate professional who is member of the NATIONAL ASSOCIATION OF REALTORS® and subscribes to its strict Code of Ethics.