Median Price of R.I. Home Sales Continued to Rise in Fourth Quarter of 2018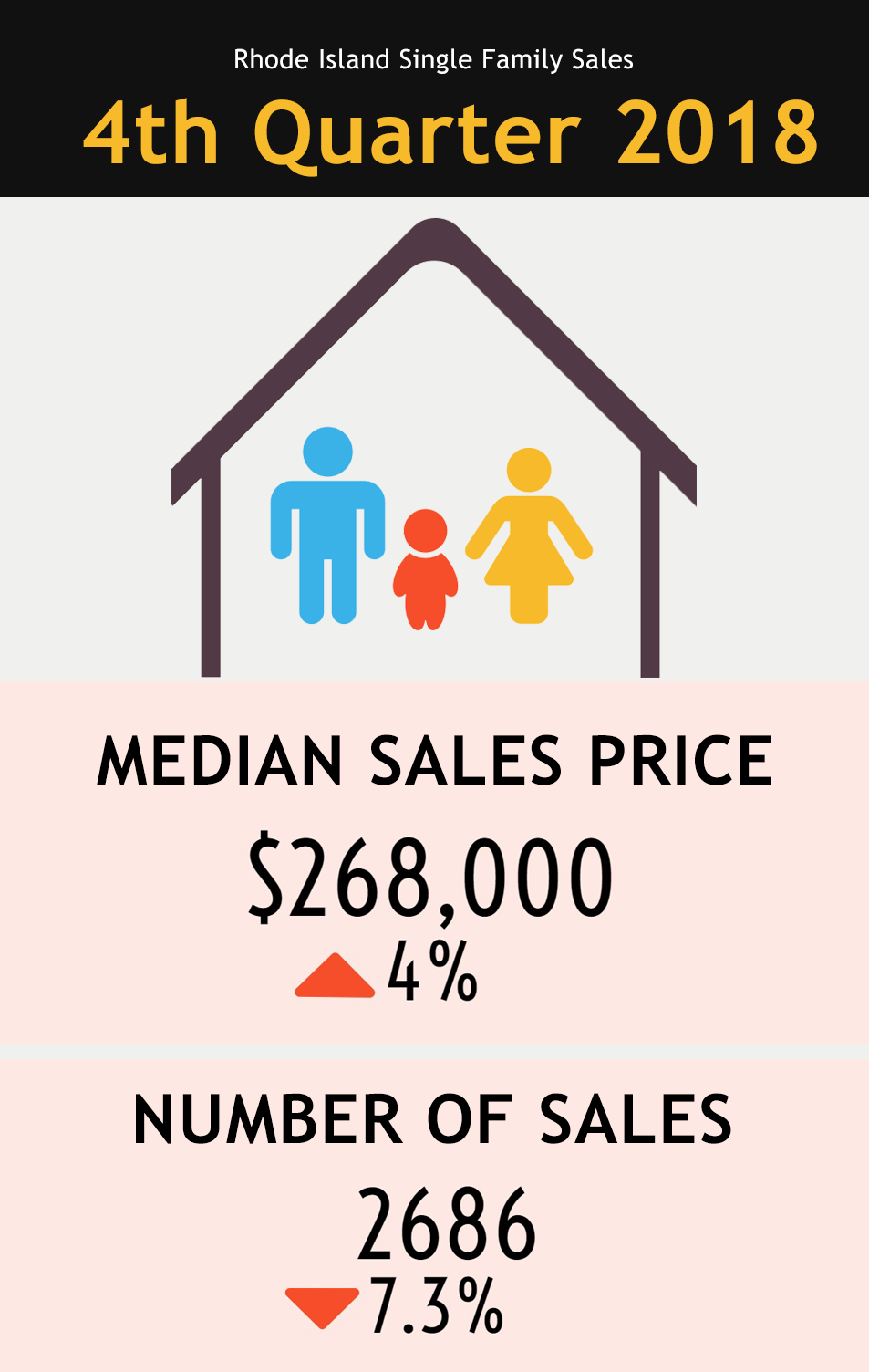 View full infographic »
Warwick, RI – January 31, 2019 – Though single-family home sales fell 7.3 percent in the last three months of 2018, the median sales price continued to rise, increasing four percent from the fourth quarter of 2017 to $268,000. Sales data released today by the Rhode Island Association of Realtors and its subsidiary, State-Wide Multiple Listing Service, portray a market beginning to become more evenly balanced between buyers and sellers due to moderating sales. The data represents only sales transacted by Realtors through the MLS system.
The data representing sales from January 1 through the end of last year show similar trends. Single-family home sales fell 5.6 percent from 2017 and the median sales price increased 5.9 percent to $270,000, the highest year-end single-family home median price seen since 2007.
"For two years prior to 2018 we saw a record-breaking number of sales, so I'm not surprised that we've started to see activity scaling back. It's a normal sequence to restoring balance. The robust markets of 2016 and 2017 left us with very little inventory. Now we're seeing the beginning of a correction which will give buyers more options," said Dean deTonnancourt, 2019 President of the Rhode Island Association of Realtors.
The median price of Newport sales in 2018 grew 24.8 percent from the prior year, the biggest price hike of all Rhode Island municipalities. On the other end of the spectrum, Little Compton's median sales price dropped 10.1 percent year over year. Six of the 40 areas reported by MLS - all Rhode Island cities and towns plus the East Side of Providence - saw a decrease in median sales price last year.
The median sales price represents the mid-point of all sales where half sold for more and half sold for less. The number generally reflects the type of properties selling at the time – starter homes versus luxury homes for example - not the specific amount of appreciation or depreciation of all homes over time.
In contrast to single-family home sales, closing activity increased in the condominium and multifamily sectors in the fourth quarter. Sales increased three percent year over year in the condominium market and 2.2 percent in the multifamily home market. The median sales price of condominiums remained the same from year to year and increased 10.9 percent in the investor-driven multifamily market.
At year-end, the condo market had reaped a six percent gain in sales from 2017 and a .5 percent increase in median sales price. Sales of multifamily properties from the beginning to the end of 2018 grew 6.8 percent from the previous year while the median sales price increased 16.4 percent.
"Multifamily properties have been a hot commodity due to rising rents. Investors see high returns and first-time buyers get help with their mortgage from the payments of their tenants," explained deTonnancourt. "That's a big advantage for our largest group of buyers – millennials, many of whom have high amounts of student debt."
"While inventory continues to increase overall, Rhode Island's housing market is still understocked," he added.
About the Rhode Island Association of REALTORS®
The Rhode Island Association of REALTORS®, one of the largest trade organizations in Rhode Island with more than 5,000 members in approximately 850 offices, has been serving Rhode Islanders since 1948. Collectively, RI REALTORS® transacted nearly $5.1 billion in real estate sales last year. Advocating for Rhode Island's property owners, the Rhode Island Association of REALTORS® provides a facility for professional development, research and exchange of information among its members and to the public and government for the purpose of preserving the free enterprise system and the right to own real property.
The Association is one of more than 1,400 boards and associations that comprise the National Association of REALTORS® (NAR). The National Association of Realtors®, "The Voice for Real Estate," is America's largest trade association, representing over 1.1 million members involved in all aspects of the residential and commercial real estate industries and who subscribe to a strict Code of Ethics.
REALTOR® is a federally registered collective membership mark which identifies a real estate professional who is member of the NATIONAL ASSOCIATION OF REALTORS® and subscribes to its strict Code of Ethics.