R.I.'s housing inventory falls to new record low
Warwick, R.I.—March 17, 2022 – The Rhode Island Association of Realtors reported today that sales fell among all residential property types in February, while prices continued to climb in Rhode Island's housing market.
With just 789 single-family homes for sale last month, the supply reached a record-breaking low since 1998, the year the Association began keeping inventory records. The number of single-family homes for sale fell 30.6% from February 2021, and 67.6% from 2020, just before the pandemic began.
Sales activity fell 10.6% from February of 2021, the 34th consecutive month of falling sales. Contracts in the pipeline but not closed by the end of February, also fell for the second consecutive month, declining 5.3%, an indication that the slump in sales will continue in the months ahead.
The median price of February's single-family home sales increased 15% to $368,000.
Last month, the supply of condominiums for sale decreased 41.2% year-over-year, contributing to a year-over-year decrease in closing activity of 5.2%. Like single-family home sales, pending contracts also decreased in the condo sector, though at a lesser amount of just .3%. The median price of February's condominium sales was $305,000, a hike of 27.1% from 12 months earlier.
Multifamily homes showed the largest drop in supply in February, falling 52.8% in one year and leading to the lowest supply of all property types. Sales fell by 3.9% and those under contract but not completed by the end of February dropped 3.4%. The median price of $410,000 represented a 22.4% gain from 12 months earlier.
"More people will face housing affordability issues as inventory continues to deplete and interest rates rise. We desperately need more housing in Rhode Island, particularly for low- and middle-income earners, so that our businesses can attract and retain workers," said Agueda Del Borgo.
Currently, the supply of single-family homes, condominiums and multifamily homes would be depleted at the current rate of sale in .84 months, 1.2 months, and .81 months, respectively.
Months Supply: Click here for interactive display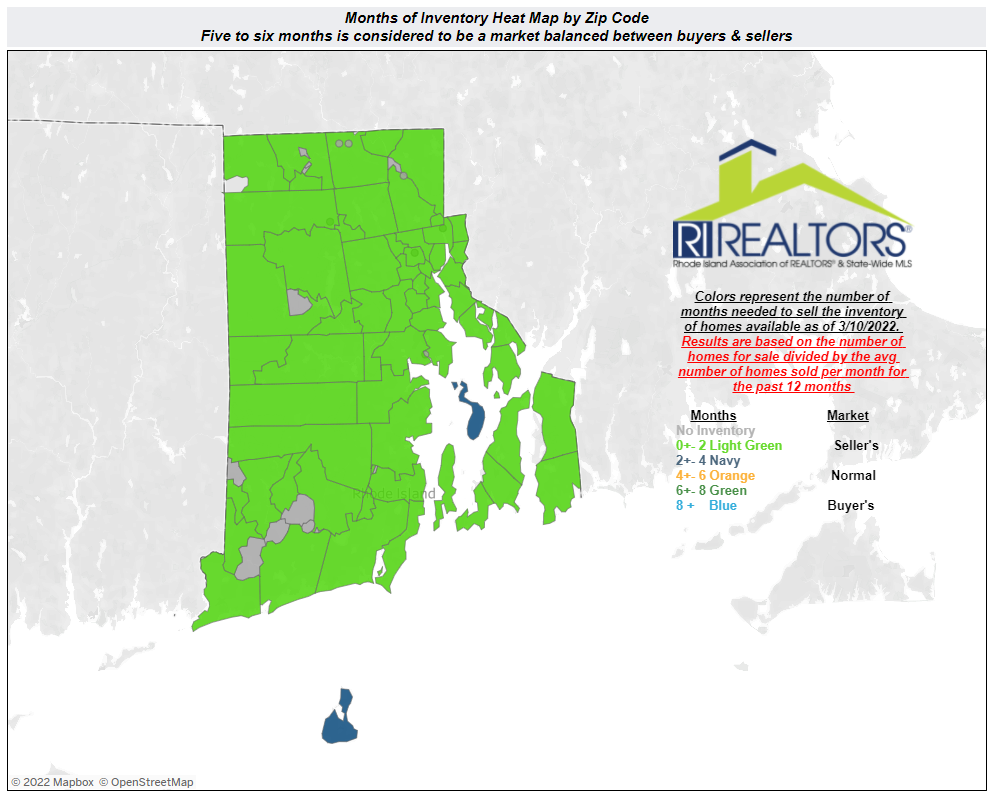 About the Rhode Island Association of REALTORS®
The Rhode Island Association of REALTORS®, one of the largest trade organizations in Rhode Island with more than 7,000 members in approximately 900 offices, has been serving Rhode Islanders since 1948. Collectively, RI REALTORS® transacted nearly $7.9 billion in residential real estate sales last year and nearly $8.1 billion in total transactions including rentals and commercial real estate. Advocating for Rhode Island's property owners, the Rhode Island Association of REALTORS® provides a facility for professional development, research and exchange of information among its members and to the public and government for the purpose of preserving the free enterprise system and the right to own real property.
The Association is one of more than 1,400 boards and associations that comprise the National Association of REALTORS® (NAR). The National Association of Realtors®, "The Voice for Real Estate," is America's largest trade association, representing over 1.4 million members involved in all aspects of the residential and commercial real estate industries and who subscribe to a strict Code of Ethics.
REALTOR® is a federally registered collective membership mark which identifies a real estate professional who is member of the NATIONAL ASSOCIATION OF REALTORS® and subscribes to its strict Code of Ethics.