Unexpected Surge in R.I. Home Sales in January
Warwick, R.I. – February 17, 2022 – Single-family home sales in Rhode Island increased 5.4% year-over-year in January, after falling in the last six months of 2021. Though the strong start in this year's housing market appears to be a reversal in the moderating sales trend that started last summer, pending sales - those homes put under contract in January but not closed within the month - fell by 4%. The decrease in those contract signings, which generally turn into closed sales within one to two months, is a sign that the strengthened activity may be short-lived. Never-the-less, if sales begin to fall below the record-breaking numbers of last year once again, January sales data released today by the Rhode Island Association of Realtors indicates that Rhode Island's housing market is still very active.
"We expected to stay busy into 2022, but the sudden year-over-year uptick in closed sales was a bit unexpected after six months of decline. It could be that the threat of rising interest rates brought more buyers into the market and/or the volatility of the stock market caused more people to invest in real estate. Given the rising rate of inflation, others may have been enticed to stabilize their housing expense by avoiding rising rents," commented Agueda Del Borgo, President of the Rhode Island Association of Realtors.
At $370,000, the median price of single-family home transactions rose 10.8% from January 2021. While the increase in the median price – where half the homes sold for less and half for more- does not indicate a change in value of individual homes, it does portray a market where prices are continuing to rise overall.
The number of days a home stayed on the market decreased from 50 in January 2021 to 42 last month. At the current rate of sales, single-family home inventory would be depleted in one month if no more homes were listed for sale, a clear sign of a seller's market.
While sales activity remained stable in the condominium sector last month, rising 1.9% from 12 months earlier, the median price rose 20.3% to $299,900.
With the stock market wavering, investor interest in real estate remains strong. Sales in the investor-laden multifamily home market rose 17.3% from January 2021 to January of this year, while the median sales price rose to $399,900, a 21.2% gain. Days on market dropped from 37 to 30. Cash and investors with strong financial qualifications created intense competition and quick turnover in the market.
"2020 was a turning point for Rhode Island. Not only do we have pent-up demand from Rhode Island residents wanting to change homes to accommodate new needs due to Covid, but we've also attracted attention from buyers from other states and that hasn't waned. Investment in Rhode Island real estate has become a hot commodity," said Del Borgo.
In January, 24.6% of buyers came from outside of Rhode Island according to data from State-Wide MLS, a subsidiary of the Rhode Island Association of Realtors.
Months Supply: Click here for interactive display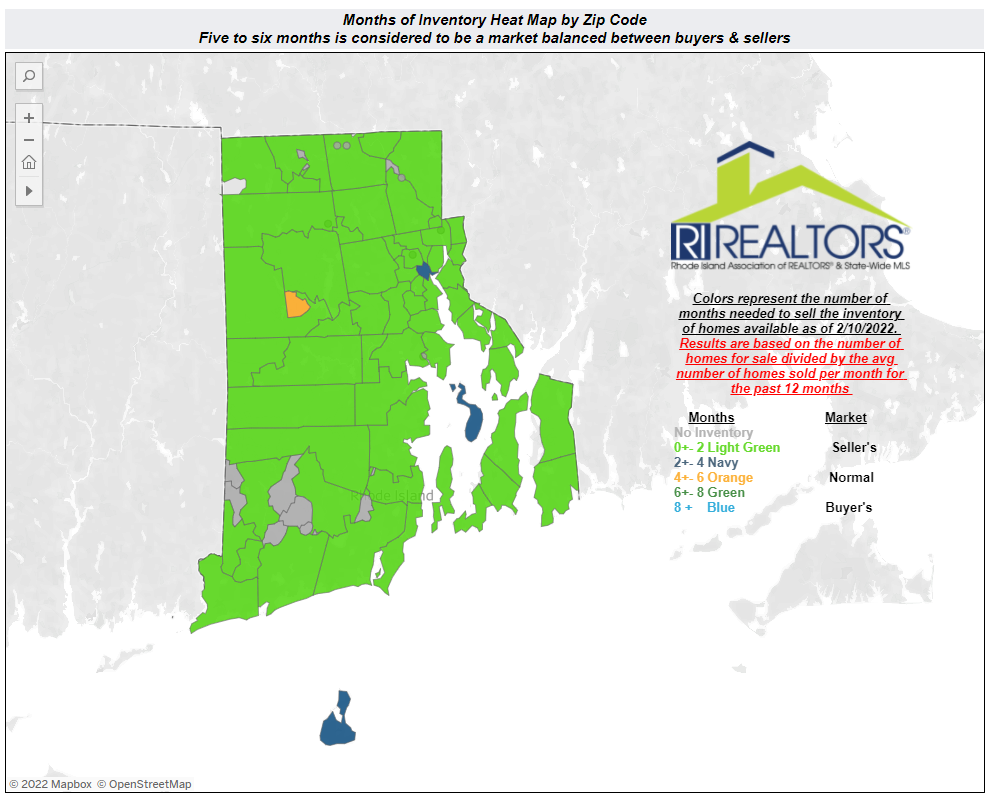 About the Rhode Island Association of REALTORS®
The Rhode Island Association of REALTORS®, one of the largest trade organizations in Rhode Island with more than 7,000 members in approximately 900 offices, has been serving Rhode Islanders since 1948. Collectively, RI REALTORS® transacted nearly $7.9 billion in residential real estate sales last year and nearly $8.1 billion in total transactions including rentals and commercial real estate. Advocating for Rhode Island's property owners, the Rhode Island Association of REALTORS® provides a facility for professional development, research and exchange of information among its members and to the public and government for the purpose of preserving the free enterprise system and the right to own real property.
The Association is one of more than 1,400 boards and associations that comprise the National Association of REALTORS® (NAR). The National Association of Realtors®, "The Voice for Real Estate," is America's largest trade association, representing over 1.4 million members involved in all aspects of the residential and commercial real estate industries and who subscribe to a strict Code of Ethics.
REALTOR® is a federally registered collective membership mark which identifies a real estate professional who is member of the NATIONAL ASSOCIATION OF REALTORS® and subscribes to its strict Code of Ethics.