Realtors Report R.I. Housing Inventory Vanishing
Warwick, R.I. – June 16, 2021 – Double-digit appreciation continued in Rhode Island's housing market last month. The median sales price of single-family homes rose to $365,000, an 18 percent gain since May 2020.
Transactions also increased by 19.1 percent year-over-year, though many closings in the spring of 2020 were curtailed by the pandemic. Compared to May of 2019, last month's closing activity was down 17.8 percent.
With just 863 single-family homes for sale last month, Rhode Island's available housing inventory fell by 64 percent since May of 2020 and by 76 percent in May of 2019 when there were 3583 single-family homes on the market. At the current rate of sales, Rhode Island's inventory would be depleted in less than one month.
"The demand for Ocean State real estate remains searing hot. Sellers are seeing multiple offers and all but the most qualified and prepared buyers are having a tough time getting into a home. We're hopeful that as we come out of the pandemic and the economy continues to improve, we'll see more people willing to put their home up for sale. Even if that occurs, Rhode Island needs more new construction to accommodate the growing demand," said Leann D'Ettore, President of the Rhode Island Association of Realtors.
The condominium sector saw the largest gains last month with the median sales price rising 43.7 percent to $350,000. Sales activity also jumped 33.1 percent since May 2020, though they fell by 18.3 percent since May 2019 when sales were not impacted by COVID-19.
The number of condos listed for sale continued to decline significantly. Last month's 280 available condos palled in comparison to the 639 units available in May 2020 and the 830 for sale in May 2019.
The $350,000 median price for May's multifamily home sales represented a 14.8 percent gain from the prior year. Closing activity, which nearly ceased altogether during the height of last year's shutdown, increased by 111.8 percent year-over-year and by 21.6 percent since May 2019.
Months Supply: Click here for interactive display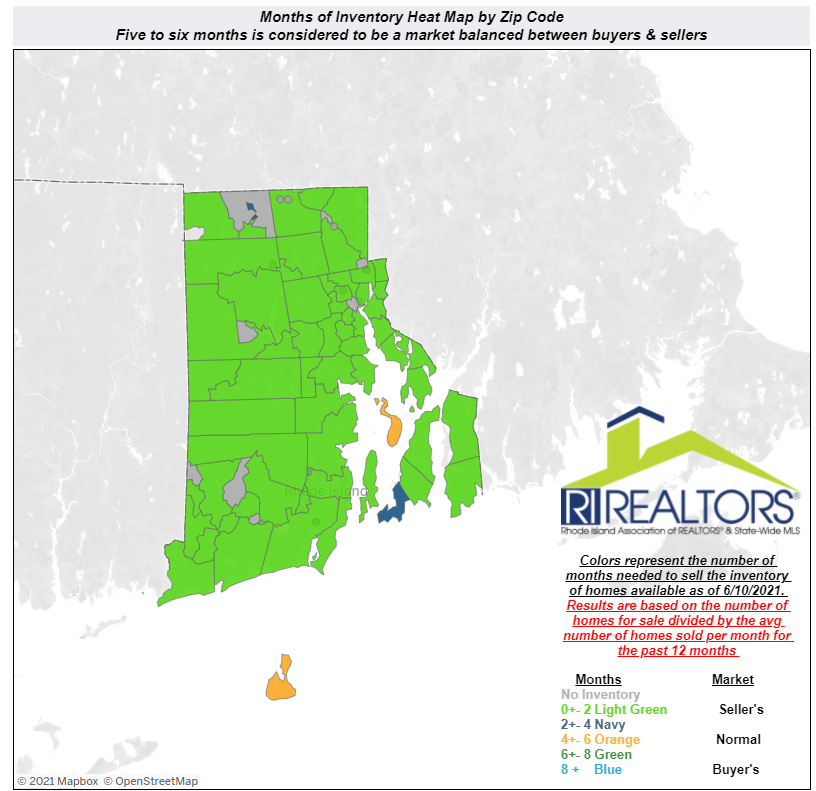 About the Rhode Island Association of REALTORS®
The Rhode Island Association of REALTORS®, one of the largest trade organizations in Rhode Island with more than 7,000 members in approximately 900 offices, has been serving Rhode Islanders since 1948. Collectively, RI REALTORS® transacted nearly $7.9 billion in residential real estate sales last year and nearly $8.1 billion in total transactions including rentals and commercial real estate. Advocating for Rhode Island's property owners, the Rhode Island Association of REALTORS® provides a facility for professional development, research and exchange of information among its members and to the public and government for the purpose of preserving the free enterprise system and the right to own real property.
The Association is one of more than 1,400 boards and associations that comprise the National Association of REALTORS® (NAR). The National Association of Realtors®, "The Voice for Real Estate," is America's largest trade association, representing over 1.4 million members involved in all aspects of the residential and commercial real estate industries and who subscribe to a strict Code of Ethics.
REALTOR® is a federally registered collective membership mark which identifies a real estate professional who is member of the NATIONAL ASSOCIATION OF REALTORS® and subscribes to its strict Code of Ethics.