R.I.'s housing shortage sees some relief in June
Warwick, R.I. – July 14, 2021 -- The Rhode Island Association of Realtors released June sales statistics today which portray another double-digit, year-over-year increase in price. At $385,000, June's median sales price of single-family homes represents a 24.6 percent gain since June of last year and a 5.5 percent gain from the previous month.
The number of days a home stayed on the market fell by 50 percent from June 2020 to just 27 days, one more indication of a frenzied market characterized by strong buyer demand and insufficient inventory.
The inventory of single-family homes for sale regained its footing last month after experiencing a significant dip in the prior month, though the supply remained 31 percent lower than that reported in June 2020. The latest data shows that inventory would deplete in 1.6-months at June's rate of sales, the highest level since November of last year. In May, RI Realtors reported less than a one-month supply of single-family homes for sale, approximately five months short of the supply typically characterized by a balanced market.
While sales activity increased 19.4 percent compared to 12 months earlier, a more telling indicator is the comparison to 2019, the year closings were unaffected by the economic shutdown. June sales in 2021 represented a 1.9 percent increase compared to the same period two years earlier.
Among condominium sales, the median sales price increased 20 percent to $300,000, from $250,000 year-over-year. Sales activity grew 103 percent. The days a condo stayed on the market fell to 40 days from 60 and the listings available for sale fell by 38.2 percent.
Multifamily homes also saw a sharp increase in price and sales. June's median sales price of $365,000 represented a 21.7 percent increase from 12 months earlier. Like the condominium market, closing activity more than doubled, increasing by 104 percent. Listings increased by 14.4 percent.
"Low interest rates coupled with the historically low supply of homes available for sale are causing homes to sell more quickly and for more money than ever before. There needs to be some relief in sight, particularly for first-time homebuyers who are finding nearly impossible to compete with buyers with top tier credit and cash. We're hopeful that the slight uptick we saw in inventory in June continues, as more people become comfortable with putting their homes on the market," said Leann D'Ettore, president of the Rhode Island Association of Realtors.
RI Realtors reported a 36.8 percent annual gain in total sales activity among all property types combined- single-family and multifamily homes and condominiums. Properties sold for one million dollars or more however, grew by 242.32 percent. When compared to 2019, the last June unaffected by COVID, Rhode Island sales at all price levels rose 10.5 percent and those of one million or more rose 217.9 percent.
Months Supply: Click here for interactive display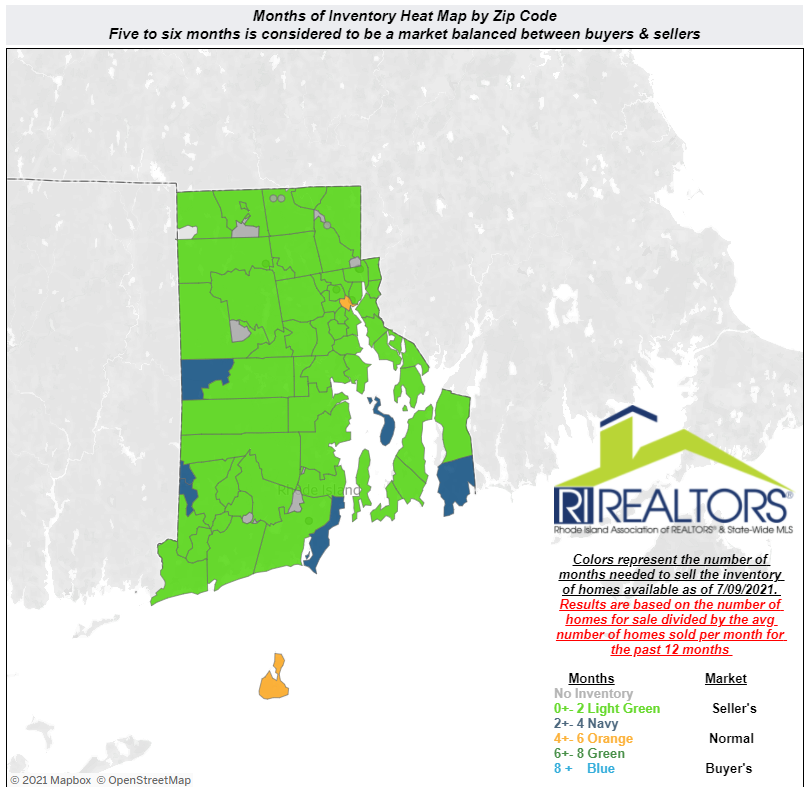 About the Rhode Island Association of REALTORS®
The Rhode Island Association of REALTORS®, one of the largest trade organizations in Rhode Island with more than 7,000 members in approximately 900 offices, has been serving Rhode Islanders since 1948. Collectively, RI REALTORS® transacted nearly $7.9 billion in residential real estate sales last year and nearly $8.1 billion in total transactions including rentals and commercial real estate. Advocating for Rhode Island's property owners, the Rhode Island Association of REALTORS® provides a facility for professional development, research and exchange of information among its members and to the public and government for the purpose of preserving the free enterprise system and the right to own real property.
The Association is one of more than 1,400 boards and associations that comprise the National Association of REALTORS® (NAR). The National Association of Realtors®, "The Voice for Real Estate," is America's largest trade association, representing over 1.4 million members involved in all aspects of the residential and commercial real estate industries and who subscribe to a strict Code of Ethics.
REALTOR® is a federally registered collective membership mark which identifies a real estate professional who is member of the NATIONAL ASSOCIATION OF REALTORS® and subscribes to its strict Code of Ethics.