Activity begins to wane in R.I.'s housing market
Warwick, R.I. – August 19, 2021 -- While the median price of single-family home sales continued to climb in Rhode Island, July sales data released today by the Rhode Island Association of Realtors showed a slowdown in sales activity from the prior year. The median price of $384,000, was 16 percent higher than that of July 2020 and the number of homes available for sale was 20 percent lower. These factors, and possibly rising fears about the transmission of the COVID variant, are the most likely factors leading to a 12 percent decrease in closed sales. Until last month, the number of monthly single-family home transactions had been rising steadily year-over-year since last summer.
Pending sales, a strong indicator of market trends in the months ahead, also fell slightly for the first time since the economic shutdown, following months of strong, annual gains.
"Fortunately, we're getting more inventory on the market in recent months, and though the supply is still lower than it was last summer, we are seeing a bit of an upswing. The number of homes on the market typically showed more than a 40 percent decrease from 12 months earlier for the past year, but that delta shrunk to just 20 percent last month. Buyers are still challenged by a shortage of homes to choose from but at least we're seeing small gains," said Leann D'Ettore, President of the Rhode Island Association of Realtors.
According to statistics from State-Wide Multiple Listing Service, there was a 1.7-month supply of home on the market at July's pace of sales, up slightly from 1.6 months in June and less than a one-month inventory in May. Typically, a housing market balanced between supply and demand has a six-month supply of homes on the market.
While the multifamily market also saw an increase in median price, rising 23 percent to $370,000, sales of those properties bucked the downward trend in closing activity seen in the single-family home market. In fact, multifamily home sales rose 68 percent compared to July 2020. The surge in sales is owed at least in part to low interest financing and strong investment income and affordability thanks to rising rents.
Both median price and closing activity also increased in the condominium market. July's median sales price of $275,000 represented a 14 percent increase since July 2020 and the number of transactions rose by seven percent.
"Trends in condo sales typically lag behind what we see in the single-family home market. The number of condos put under contract in July but not closed until after the month ended, was up more than 31 percent last month. That's a strong indication that we won't see condominium sales falling below last year's levels any time soon," said D'Ettore.
RI Realtors also reported that the growing trend of out-of-state buyers continued in July. Twenty-seven percent of Rhode Island property sales came from buyers from other states, primarily Massachusetts, New York and Connecticut. Once again, that influx was even more pronounced in the luxury market of properties sold for one million dollars or more. Fifty-one percent of those properties were sold to out-of-state buyers.
Months Supply: Click here for interactive display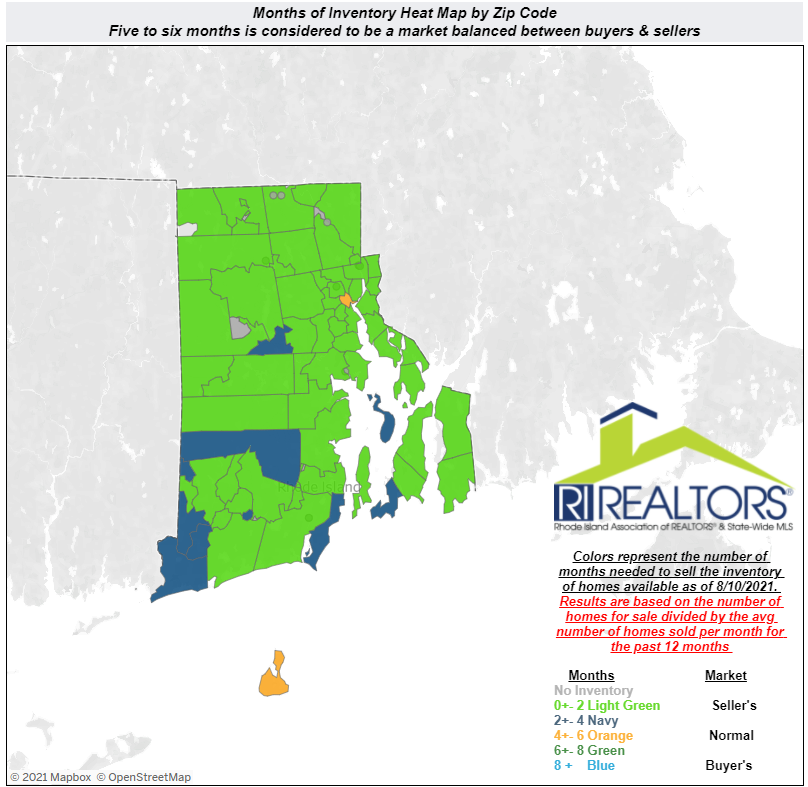 About the Rhode Island Association of REALTORS®
The Rhode Island Association of REALTORS®, one of the largest trade organizations in Rhode Island with more than 7,000 members in approximately 900 offices, has been serving Rhode Islanders since 1948. Collectively, RI REALTORS® transacted nearly $7.9 billion in residential real estate sales last year and nearly $8.1 billion in total transactions including rentals and commercial real estate. Advocating for Rhode Island's property owners, the Rhode Island Association of REALTORS® provides a facility for professional development, research and exchange of information among its members and to the public and government for the purpose of preserving the free enterprise system and the right to own real property.
The Association is one of more than 1,400 boards and associations that comprise the National Association of REALTORS® (NAR). The National Association of Realtors®, "The Voice for Real Estate," is America's largest trade association, representing over 1.4 million members involved in all aspects of the residential and commercial real estate industries and who subscribe to a strict Code of Ethics.
REALTOR® is a federally registered collective membership mark which identifies a real estate professional who is member of the NATIONAL ASSOCIATION OF REALTORS® and subscribes to its strict Code of Ethics.