Cooling Activity in R.I.'s Housing Market in September
Warwick, R.I. – October 14, 2022 –The number of single-family homes sold last month in Rhode Island plummeted 20.2% from 12 months prior. According to a report released by the Rhode Island Association of Realtors and its subsidiary State-Wide Multiple Listing Service, the median price of those sales rose 8.1% to $416,000 from $385,000 in September 2021.
Trends in other sectors of the market were even more significant. Sales in the condominium market fell 32.2% year-over-year and the median price rose to $344,500, a 27.6% hike. Multifamily home sales dropped 37.3% and the median price rose 11.8% to $425,000.
"The pandemic brought vast numbers of buyers from out of state which further depleted an already low inventory of homes for sale. Now, with mortgage rates rising rapidly and the threat of recession on the horizon, the housing market has slowed considerably," said Agueda Del Borgo, President of the Rhode Island Association of Realtors.
The recent data reflects the continuance of a slowdown in activity in the housing market that began a year ago when the threat of rising interest rates entered the market. Prices continue to rise however, due to a shortage of inventory that has led to a 1.7-month supply of homes for sale at the current rate of sales, a slight dip from the previous month and well below that of a healthy market. The restraint in sales is causing prices to moderate from the double-digit growth in year-over-year appreciation seen through much of last year, though in September, single-family homes were still selling at 101% of list price.
The Rhode Island Association of Realtors releases data monthly based on Realtor-assisted transactions entered into the State-Wide MLS information exchange. The association reports year-over-year data to eliminate the monthly fluctuations caused by seasonality. Prices reflect median figures, not average, to reduce the skew caused by large outliers included in computations for average prices.
Months Supply: Click here for interactive display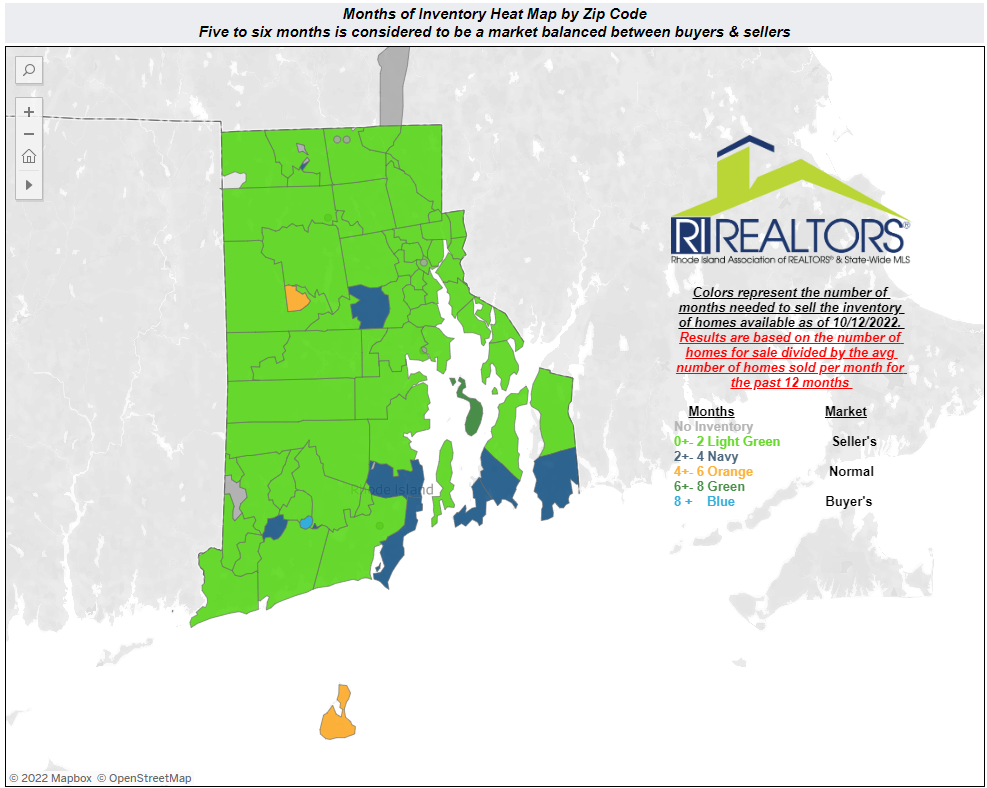 About the Rhode Island Association of REALTORS®
The Rhode Island Association of REALTORS®, one of the largest trade organizations in Rhode Island with more than 7,000 members in approximately 950 offices, has been serving Rhode Islanders since 1948. Advocating for Rhode Island's property owners, the Rhode Island Association of REALTORS® provides a facility for professional development, research and exchange of information among its members and to the public and government for the purpose of preserving the free enterprise system and the right to own real property.
The Association is one of more than 1,400 boards and associations that comprise the National Association of REALTORS® (NAR). The National Association of Realtors®, "The Voice for Real Estate," is America's largest trade association, representing over 1.4 million members involved in all aspects of the residential and commercial real estate industries and who subscribe to a strict Code of Ethics.
REALTOR® is a federally registered collective membership mark which identifies a real estate professional who is member of the NATIONAL ASSOCIATION OF REALTORS® and subscribes to its strict Code of Ethics.