Realtors report restrained activity in R.I.'s housing market
Warwick, R.I. – November 19, 2021 -- October sales data released today by the Rhode Island Association of Realtors portrays a housing market that continues to slow. Single-family home sales fell 22.3 percent from October 2020 but despite the slowdown in activity, the median price continued to climb, rising by 12.7 percent year-over-year.
Homes put under contract in October but not closed by month's end fell .13 percent. Increased momentum in the market seems unlikely as pending sales foretell closing activity in the months ahead.
"For the past 15 months, Rhode Island's housing market has shattered records. Our housing market will likely show more tempered activity in 2022 but we still expect sales to remain strong. Our hope is that more sellers will be willing to list their homes if the frenzy of the market dies down and Covid becomes less of an issue. For many homeowners, the worry of finding a place to move to, is what is preventing them from listing their home for sale," commented Agueda Del Borgo, President of the Rhode Island Association of Realtors.
Del Borgo further explained that Rhode Island has maintained less than a two-month supply of homes for sale all year. A supply of six months at the current rate of sale typically denotes a market balanced between supply and demand.
Similar trends held for the condominium sector. Sales fell by 10.9 percent year-over-year while the median price rose to $270,000, a 9.8 percent increase from October 2020. In contrast to the single-family home market however, pending sales rose 10.8 percent, an indication that frustrated buyers in the single-family home market may have turned their focus to condominiums.
The multifamily home market was the clear forerunner last month, with sales rising by 8.8 percent and the median price increasing 15.15 percent annually, to $380,000. An increase in pending sales of 11.2 percent also indicates that this sector of the market will remain strong in the months ahead. Throughout the year, the multifamily market held wide appeal to both investors and first-time homebuyers.
"Our housing shortage has created great demand for rentals. High rents and an abundance of potential tenants are great enticements for investing in multifamily properties. The fact that Rhode Island is a vacation destination also provides some buyers in tourist areas with great potential for vacation rental income," commented Del Borgo.
The number of listings was down in all sectors of the market. The conclusion of the mortgage forbearance moratorium and reduced worries about Covid, could help mitigate the shortage in the year ahead.
Months Supply: Click here for interactive display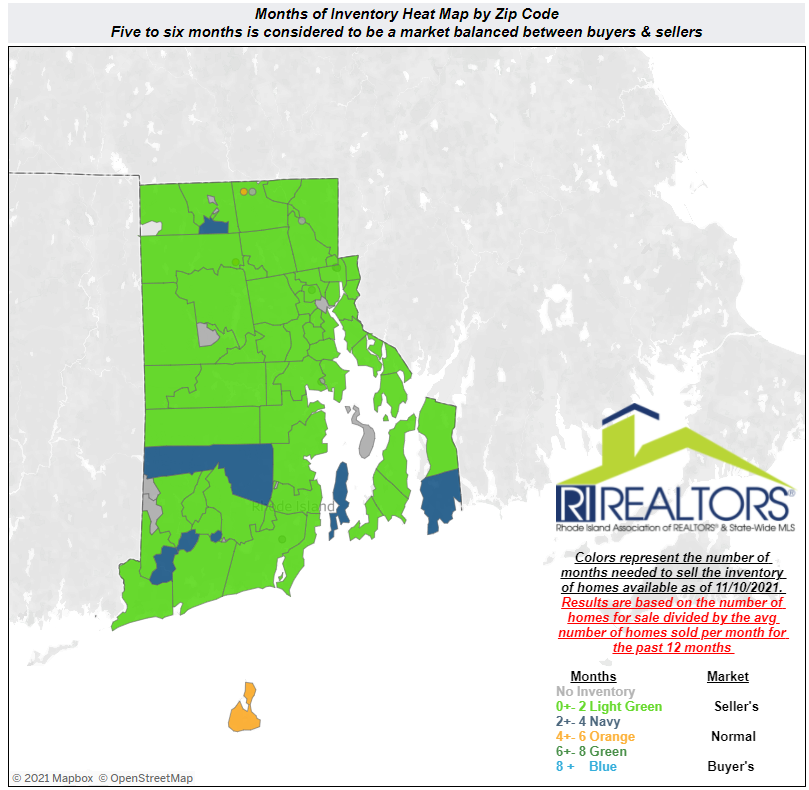 About the Rhode Island Association of REALTORS®
The Rhode Island Association of REALTORS®, one of the largest trade organizations in Rhode Island with more than 7,000 members in approximately 900 offices, has been serving Rhode Islanders since 1948. Collectively, RI REALTORS® transacted nearly $7.9 billion in residential real estate sales last year and nearly $8.1 billion in total transactions including rentals and commercial real estate. Advocating for Rhode Island's property owners, the Rhode Island Association of REALTORS® provides a facility for professional development, research and exchange of information among its members and to the public and government for the purpose of preserving the free enterprise system and the right to own real property.
The Association is one of more than 1,400 boards and associations that comprise the National Association of REALTORS® (NAR). The National Association of Realtors®, "The Voice for Real Estate," is America's largest trade association, representing over 1.4 million members involved in all aspects of the residential and commercial real estate industries and who subscribe to a strict Code of Ethics.
REALTOR® is a federally registered collective membership mark which identifies a real estate professional who is member of the NATIONAL ASSOCIATION OF REALTORS® and subscribes to its strict Code of Ethics.