R.I. Median Home Price Rises for 43rd Consecutive Month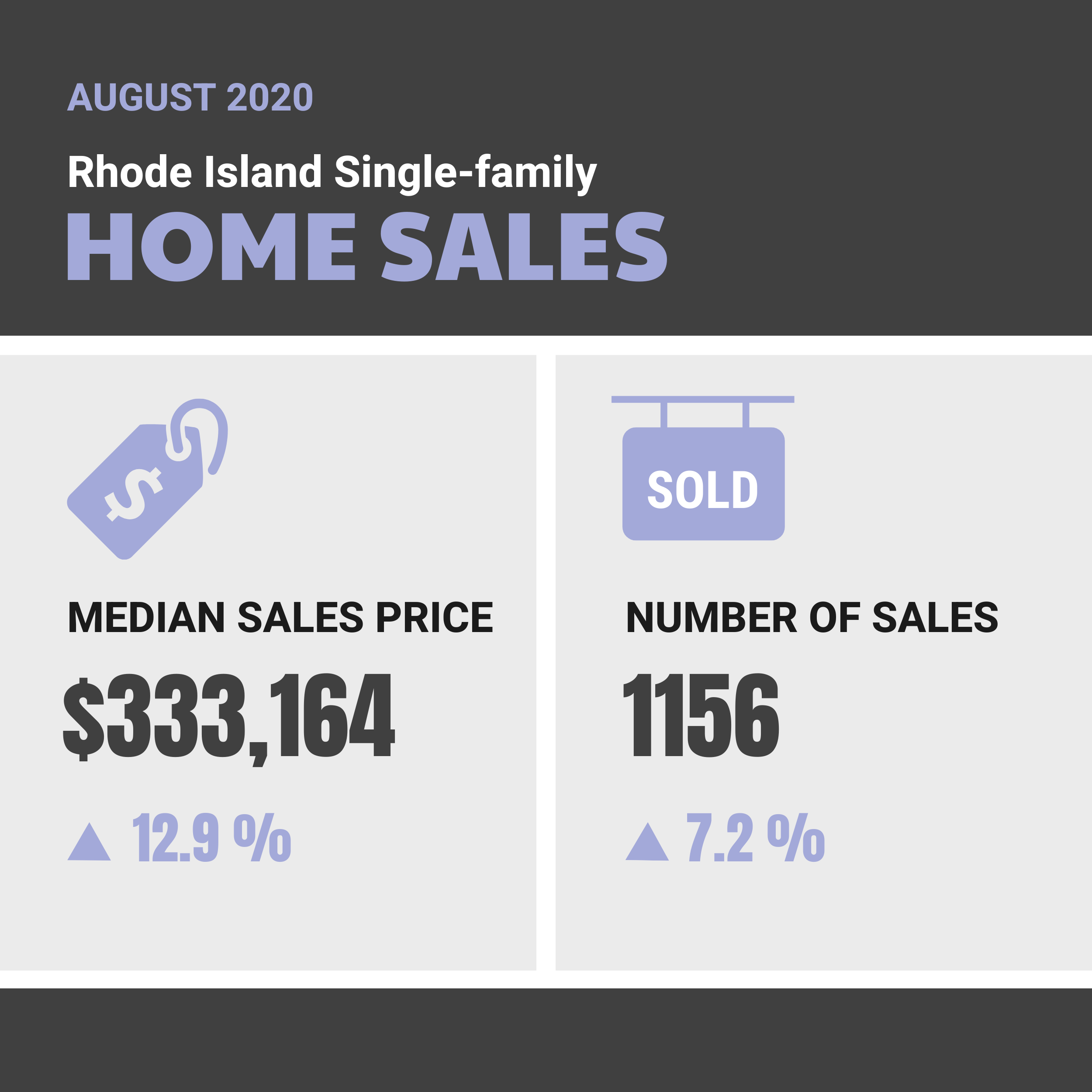 View full infographic »
Warwick, R.I. – September 16, 2020 – The Rhode Island Association of Realtors reported a double-digit increase in the median sales price of single-family homes in August, marking the 43rd consecutive month in which the median price of monthly sales rose or stayed the same from the previous year. At $333,164, the median price in August represented a jump of 12.9 percent from August of 2019. While median price represents the mid-point of all sales, not appreciation or depreciation of specific homes, it does reflect the trend in the market overall.
Sales activity also increased from last year, rising 7.2 percent, worsening an already substantial shortage of homes on the market. The number of homes listed for sale has fallen year-over-year for the past 16 months. In August of 2019, 3676 single-family homes were on the market. Only 2122 were listed in August of this year, a drop of 42.3 percent.
"The activity in the housing market has been remarkable, particularly in light of what we've been going through with the pandemic this year. We're seeing so much pent-up demand and there doesn't seem to be an end in sight. Homes put under contract in August that haven't closed yet are up by 25 percent from a year ago. That's an indication that demand isn't waning. We desperately need a larger supply of homes for sale to accommodate the number of buyers out there," said Shannon Buss, President of the Rhode Island Association of Realtors.
Out-of-State Buyers a Growing Influence in Summer Months
Adding to the demand are purchases by out-of-state buyers. In an analysis of July and August property sales measuring buyers from Massachusetts, Connecticut and New York, the top states behind Rhode Island for buyers of Ocean State property, Massachusetts increased 31.5 percent from the same time period in the previous year. Buyers from New York increased 48.9 percent. Together, home buyers from those two states accounted for 15.3 percent of all buyers in 2020, up from 11.7 percent of all buyers in July and August of 2019. Conversely, buyers from Connecticut decreased from the summer of 2019 to 2020.
Other sectors of the market see falling sales activity in August
The median price of condominiums sold last month reached $255,000, a 6.9 percent gain since August of 2019. Sales fell 16 percent from the prior year however and inventory dropped by 23.7 percent.
The same trends were seen in the multifamily home market where the median price rose 12.7 percent to $310,000, while sales fell 10.7 percent. The number of listings fell 13.2 percent from the prior year. Both sectors of the market however, had an increase in pending sales, which indicates a likelihood of increased sales in the months ahead.
Months Supply: Click here for interactive display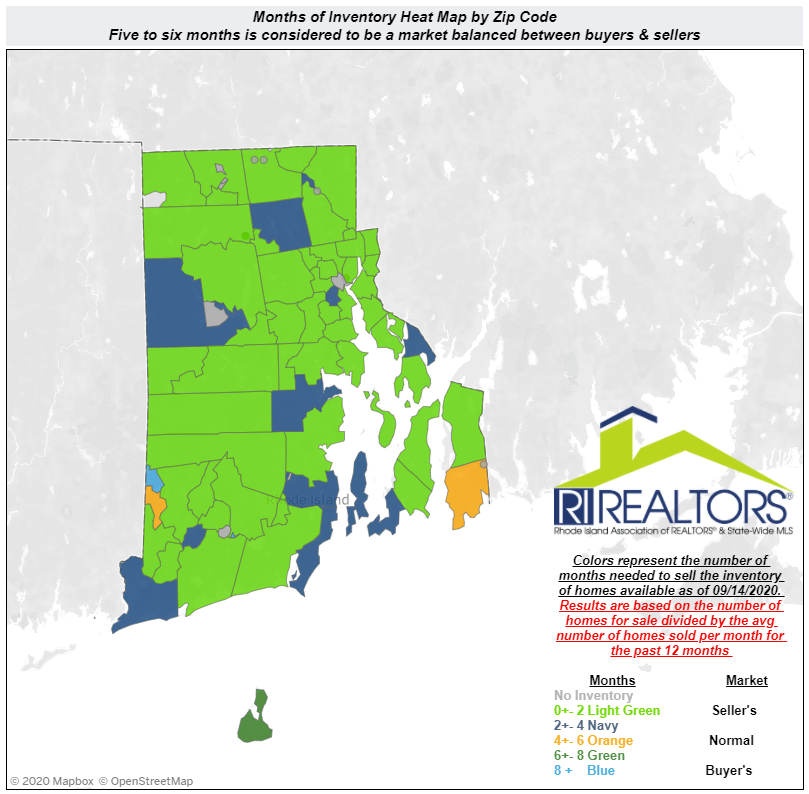 About the Rhode Island Association of REALTORS®
The Rhode Island Association of REALTORS®, one of the largest trade organizations in Rhode Island with more than 6,000 members in approximately 900 offices, has been serving Rhode Islanders since 1948. Collectively, RI REALTORS® transacted nearly $5.4 billion in real estate sales last year. Advocating for Rhode Island's property owners, the Rhode Island Association of REALTORS® provides a facility for professional development, research and exchange of information among its members and to the public and government for the purpose of preserving the free enterprise system and the right to own real property.
The Association is one of more than 1,400 boards and associations that comprise the National Association of REALTORS® (NAR). The National Association of Realtors®, "The Voice for Real Estate," is America's largest trade association, representing over 1.4 million members involved in all aspects of the residential and commercial real estate industries and who subscribe to a strict Code of Ethics.
REALTOR® is a federally registered collective membership mark which identifies a real estate professional who is member of the NATIONAL ASSOCIATION OF REALTORS® and subscribes to its strict Code of Ethics.