Low supply continues in RI housing market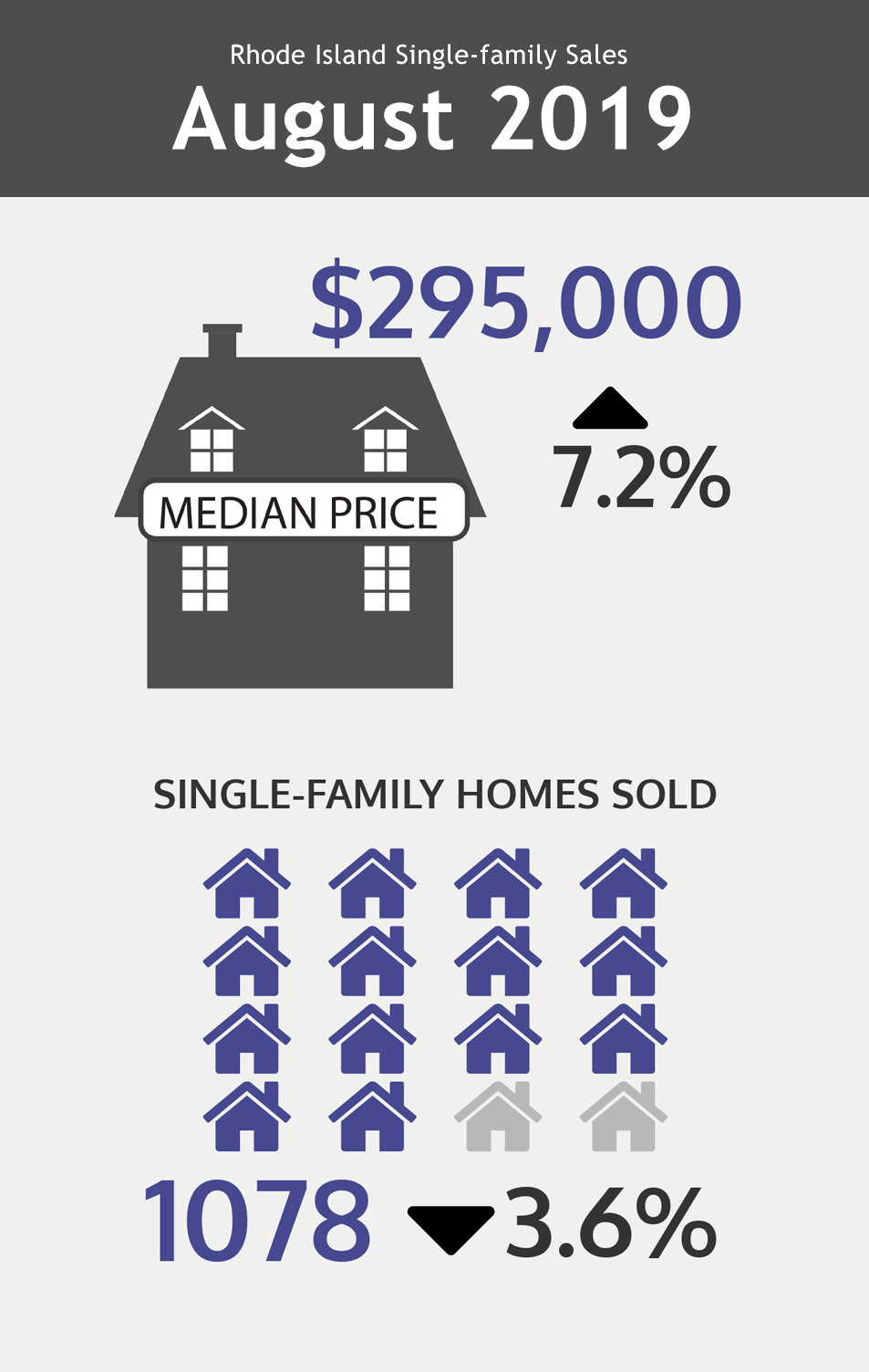 View full infographic »
Warwick, RI – September 19, 2019 – Low inventory continues to perpetuate rising home prices in Rhode Island according to August data released today by the Rhode Island Association of Realtors. The median price of single-family homes sold last month rose 7.2 percent to $295,000, compared to August of 2018. The median sales price of condominiums sold in Rhode Island in August rose 15.8 percent year-over-year and the median price of multifamily properties rose ten percent.
Inventory in all three sectors remains markedly low – hovering near a four-month supply for single-family homes and condominiums and a 3.5-month supply for multifamily properties. A six-month supply is considered a healthy balance between supply and demand by most industry experts.
Sales activity saw a jump in the condominium market last month, rising 13.7 percent from 12 months earlier but sales slowed in the single-family home and condo markets. Given the scarcity of single-family starter homes, condominiums have become an attractive option for first-time buyers.
Also, in August, the U.S. Department of Housing and Urban Development released updated guidance on FHA-insured condominium financing. The new rules, which are set to take effect in mid-October, should make it easier for more buyers to obtain low down-payment mortgages for condo purchases by eliminating financing barriers to that sector of the market.
"Overall, as our economy moves along, so too does our housing market. The only thing hindering us right now is the lack of properties available on the market. Regardless of what happens to interest rates over the next year, we can't sell what we don't have available for sale.
"If there's anyone thinking about selling, now's the time. The conditions to maximize your investment don't get much better than this," commented Dean deTonnancourt, 2019 President of the Rhode Island Association of Realtors.
Months Supply: Click here for interactive display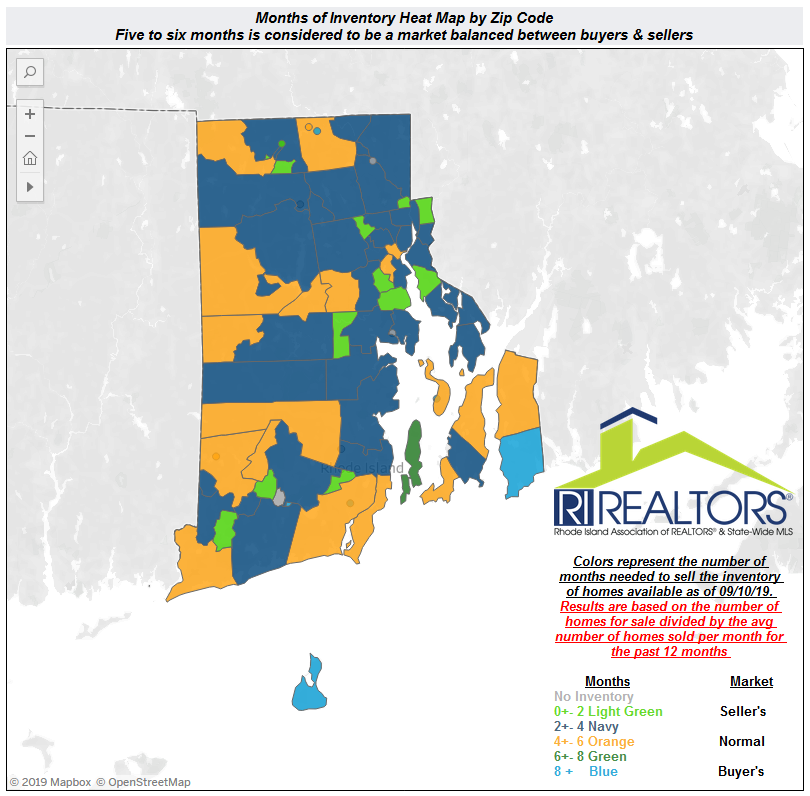 About the Rhode Island Association of REALTORS®
The Rhode Island Association of REALTORS®, one of the largest trade organizations in Rhode Island with more than 6,000 members in approximately 900 offices, has been serving Rhode Islanders since 1948. Collectively, RI REALTORS® transacted nearly $5.4 billion in real estate sales last year. Advocating for Rhode Island's property owners, the Rhode Island Association of REALTORS® provides a facility for professional development, research and exchange of information among its members and to the public and government for the purpose of preserving the free enterprise system and the right to own real property.
The Association is one of more than 1,400 boards and associations that comprise the National Association of REALTORS® (NAR). The National Association of Realtors®, "The Voice for Real Estate," is America's largest trade association, representing over 1.4 million members involved in all aspects of the residential and commercial real estate industries and who subscribe to a strict Code of Ethics.
REALTOR® is a federally registered collective membership mark which identifies a real estate professional who is member of the NATIONAL ASSOCIATION OF REALTORS® and subscribes to its strict Code of Ethics.