Home Prices Increase in August While Sales Activity Slows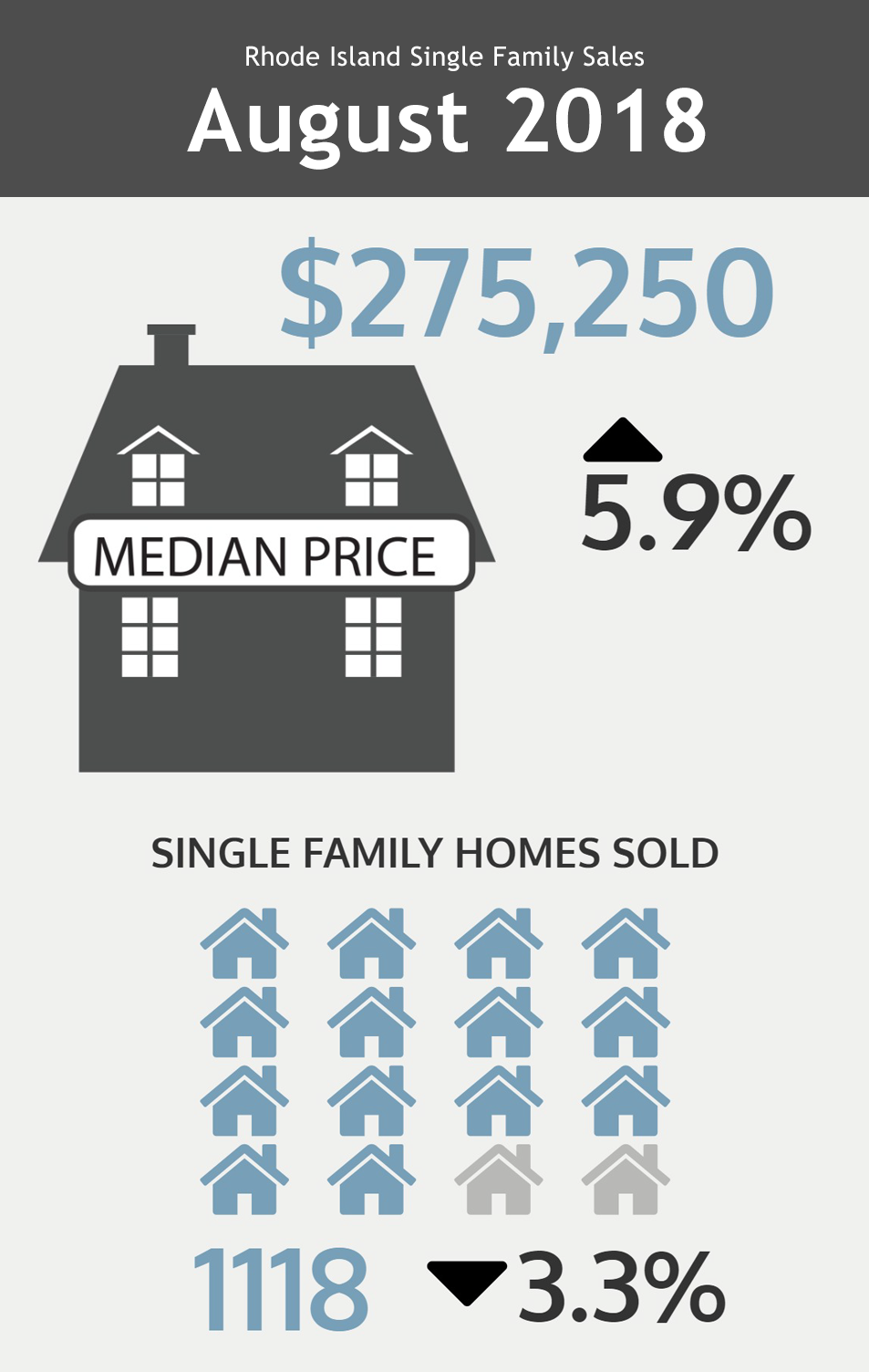 View full infographic »
Warwick, R.I., September 27, 2018 - The median sales price of single-family homes in Rhode Island continued to climb last month, rising 5.9 percent since August of 2017 to $275,250. However, in a sign that the market is in no danger of overheating, sales of single-family homes decreased year-over-year in August for the sixth consecutive month, falling 3.3 percent.
The market appears to becoming more balanced. The number of homes on the market increased from a year earlier for the past two months following a 28-month decline. By all indications, the trend of increasing inventory should continue, putting an end to Rhode Island's shortage of homes for sale. According to the latest report from the Rhode Island Association of Realtors, Rhode Island has a 4.4-month supply of homes for sale, up from a 2.7-month supply at the beginning of the year. Among housing experts, a six-month supply is considered balanced between supply and demand.
"Sellers are still seeing more profits than they have seen in quite some time but buyers have regained some leverage thanks to more listings entering the market," said Joe Luca, 2018 President of the Rhode Island Association of Realtors. "The change has been gradual, but the market is beginning to become more balanced between supply and demand so there's opportunity for both sellers and persistent buyers. While prices have risen, they're not exorbitant and interest rates remain low."
Among condominium sales, closing activity and median price fell .49 percent and 6.4 percent, respectfully. Both sales activity and median price have fluctuated each month in the condo market, showing no clear future trend. There is currently a 4.7-month supply of condominiums available for sale.
By contrast, both sales and the median selling price of multifamily properties soared in August. There were 23 percent more closings last month than 12 months earlier and at $249,900, August's median sales price rose 13.6 percent from the prior year. The median sales price has increased by double-digit amounts for 17 of the past 21 months and sales have increased year-over-year during all but two of those months. Even with significant year-over-year gains in inventory for the past five months, there remains only a four-month supply of multifamily properties on the market. By all accounts, real estate remains a hot commodity in the investor-driven multifamily home market.
"Properties remain a solid investment. While market cycles are inevitable, Rhode Island's housing market appears to be on solid footing," said Luca.
Months Supply: Click here for interactive display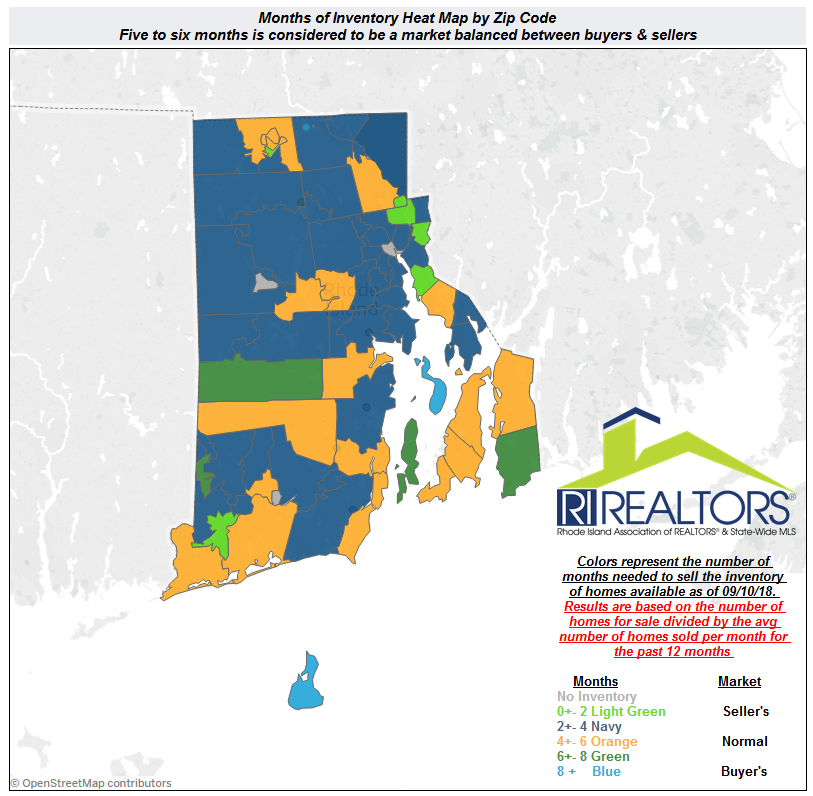 About the Rhode Island Association of REALTORS®
The Rhode Island Association of REALTORS®, one of the largest trade organizations in Rhode Island with more than 5,000 members in approximately 850 offices, has been serving Rhode Islanders since 1948. Collectively, RI REALTORS® transacted nearly $5.1 billion in real estate sales last year. Advocating for Rhode Island's property owners, the Rhode Island Association of REALTORS® provides a facility for professional development, research and exchange of information among its members and to the public and government for the purpose of preserving the free enterprise system and the right to own real property.
The Association is one of more than 1,400 boards and associations that comprise the National Association of REALTORS® (NAR). The National Association of Realtors®, "The Voice for Real Estate," is America's largest trade association, representing over 1.1 million members involved in all aspects of the residential and commercial real estate industries and who subscribe to a strict Code of Ethics.
REALTOR® is a federally registered collective membership mark which identifies a real estate professional who is member of the NATIONAL ASSOCIATION OF REALTORS® and subscribes to its strict Code of Ethics.