RI Realtors Release September Home Sales Statistics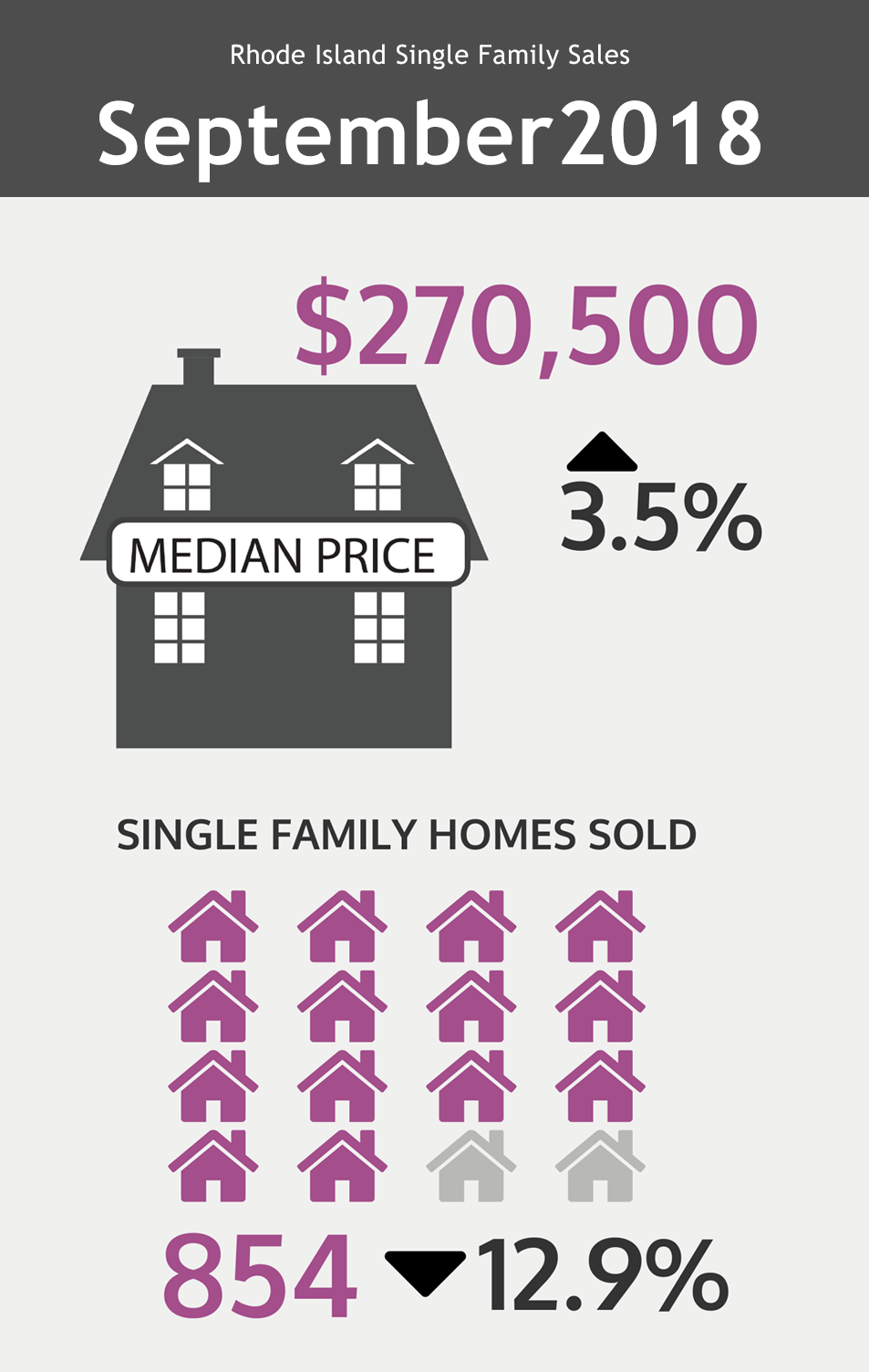 View full infographic »
Warwick, RI – October 26, 2018 – The median price of single-family home sales rose 3.5 percent year-over-year to $270,500 according to September home sales statistics released today by the Rhode Island Association of Realtors. The supply of homes for sale also increased by 7.1 percent, a welcome sign for buyers whose options have been limited by a diminishing supply of inventory over the past two years.
Closing activity decreased 12.9 percent last month from September 2017, not surprising given the record-breaking sales of the past two years. There is currently a 4.5-month supply of homes on the market. Though still short of the 6-month supply that indicates a balanced market, inventory has been rising since January when there was a 2.7-month supply of single-family homes for sale.
"It's true that Rhode Island's housing market is correcting itself but by no means do we anticipate a severe decline in prices. We are simply witnessing the return to a more stable, balanced market which is exactly what we hoped to see. Inventory has been growing for the past few months so I think we'll see a welcome reprieve for buyers who will likely have more properties to choose from in the year ahead. Sellers should remain in a stable position though it may take a bit longer for homes to sell," said Joe Luca, 2018 President of the Rhode Island Association of Realtors.
The multifamily property market had a particularly strong showing in September with the median sales price rising 16 percent from 12 months earlier to $254,950. The number of listings on the market increased by 36 percent and sales activity increased ten percent.
"Consumer confidence has been high and for the most part, investment markets have been thriving. Multifamily homes have been particularly appealing to investors given the rising price of rents," explained Luca.
The condominium market remained relatively stable last month. The median sales price dropped 2.2 percent to $223,000 and the number of condos available for sale increased 3.2 percent from September 2017. Sales activity increased 2.4 percent.
Third quarter sales data will be released by the Rhode Island Association of Realtors on October 31st.
Months Supply: Click here for interactive display
About the Rhode Island Association of REALTORS®
The Rhode Island Association of REALTORS®, one of the largest trade organizations in Rhode Island with more than 5,400 members in approximately 900 offices, has been serving Rhode Islanders since 1948. Collectively, RI REALTORS® transacted nearly $5.1 billion in real estate sales last year. Advocating for Rhode Island's property owners, the Rhode Island Association of REALTORS® provides a facility for professional development, research and exchange of information among its members and to the public and government for the purpose of preserving the free enterprise system and the right to own real property.
The Association is one of more than 1,400 boards and associations that comprise the National Association of REALTORS® (NAR). The National Association of Realtors®, "The Voice for Real Estate," is America's largest trade association, representing over 1.1 million members involved in all aspects of the residential and commercial real estate industries and who subscribe to a strict Code of Ethics.
REALTOR® is a federally registered collective membership mark which identifies a real estate professional who is member of the NATIONAL ASSOCIATION OF REALTORS® and subscribes to its strict Code of Ethics.