R.I. Median Home Price Tops $400K in April
Warwick, R.I. – May 19, 2022 – The median sale price of single-family homes sold in Rhode Island in April was $420,000, a 20.3% gain from 12 months earlier and the first time the median sales price has risen to $400,000 or above. The increased prices, along with rising interest rates, has caused sales to decline compared to the previous year, for the third consecutive month. Sales data from the Rhode Island Association of Realtors pointed to a 12.5% decline in sales compared to April 2021. Homes put under contract in April but not closed by month's end, were also down by 20.2%, an indication that continued restraint in sales activity in the months ahead is likely.
With just a 1.6% drop in listings from the previous year, April was the first month since October 2019 that the number of homes for sale had not declined year-over-year by double-digit amounts.
"I think we're starting to see the correction begin. Unaffordable prices are sidelining prospective buyers. The plus side is that as demand is reduced, the market will begin to rebalance. The negative side is that unfortunately, with the high price of rents as well, too many people are having trouble securing housing now," said Agueda Del Borgo, president of the Rhode Island Association of Realtors.
Condominium sales showed more moderate movement. The median sales price rose 11.1% to $319,900 and sales declined 9.3%. Pending sales also dropped considerably, falling 22.9% from the prior year. The drop in pending sales had been much less significant throughout the first quarter, indicating that recent interest rate hikes are having a heavy impact on prospective buyers in the condominium sector which is often a starting point for first-time homebuyers. The number of condominiums available for sale decreased 33.9% from April 2021.
Multifamily home sales hit the highest median sales price in April, at $425,000, a 19.7% year-over-year gain. Activity also showed the sharpest decline in the multifamily home market. Completed sales fell 18% while properties put under contract but not closed in April fell 20.5% from the prior year.
Months Supply: Click here for interactive display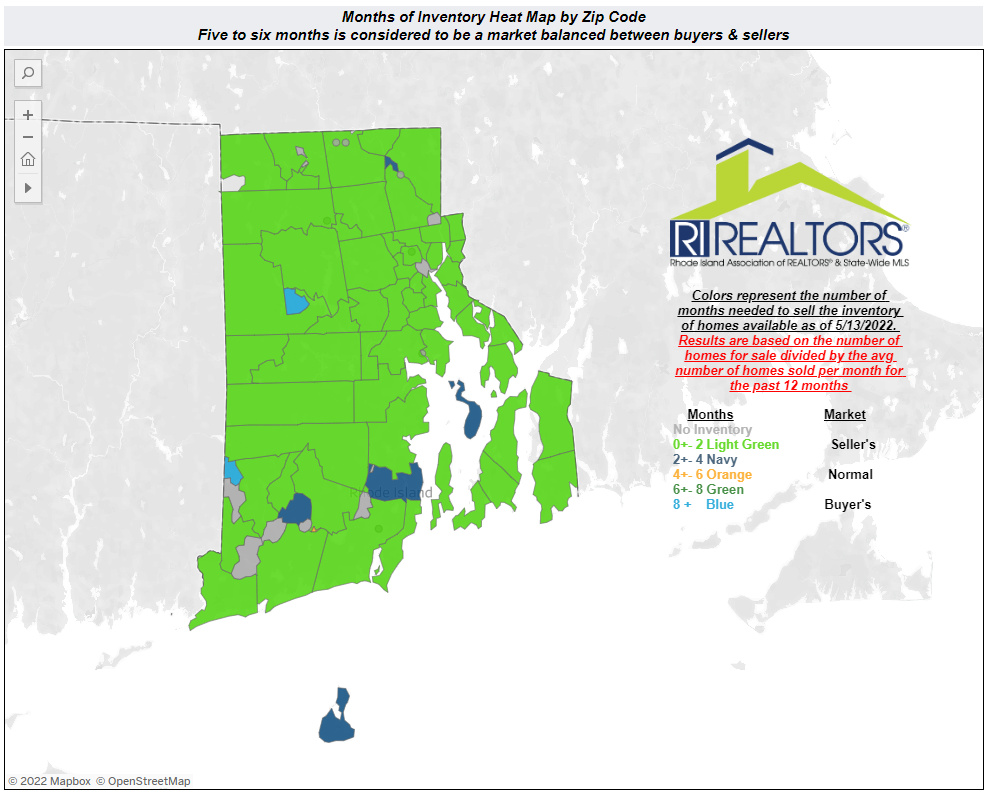 About the Rhode Island Association of REALTORS®
The Rhode Island Association of REALTORS®, one of the largest trade organizations in Rhode Island with more than 7,000 members in approximately 900 offices, has been serving Rhode Islanders since 1948. Collectively, RI REALTORS® transacted nearly $7.9 billion in residential real estate sales last year and nearly $8.1 billion in total transactions including rentals and commercial real estate. Advocating for Rhode Island's property owners, the Rhode Island Association of REALTORS® provides a facility for professional development, research and exchange of information among its members and to the public and government for the purpose of preserving the free enterprise system and the right to own real property.
The Association is one of more than 1,400 boards and associations that comprise the National Association of REALTORS® (NAR). The National Association of Realtors®, "The Voice for Real Estate," is America's largest trade association, representing over 1.4 million members involved in all aspects of the residential and commercial real estate industries and who subscribe to a strict Code of Ethics.
REALTOR® is a federally registered collective membership mark which identifies a real estate professional who is member of the NATIONAL ASSOCIATION OF REALTORS® and subscribes to its strict Code of Ethics.