Rhode Island's supply of homes up slightly in May
Warwick, R.I. – June 16, 2022 –Single-family home sales fell year-over-year by 8% in May while the median price of those sales rose 14.8%, to $419,000. Inventory continued to increase for the third consecutive month to a 1.5-month supply. While still well below the six-month supply indicative of a balanced market, May's inventory of single-family homes for sale was the highest it has been since October of last year. The supply of homes available for sale takes into consideration the number of listings on the market in a given month and the rate of sales.
"Sales last year were fueled by low interest rates. That market motivator is quickly dissipating. With the Federal Reserve hiking interest rates an additional three-quarters of a point this week, we'll see the trend of multiple offers over asking price slow down considerably, which will in turn, increase inventory further," said Agueda Del Borgo, President of the Rhode Island Association of Realtors.
In the condominium market, sales activity and median price changes showed opposite trends compared to the single-family home market. Sales rose by 6.6% last month and the median sales price of those sales dropped 6.3% to $328,000. However, like the single-family home sector, a 1.5-month supply of condos for sale reflected growth.
The median price of multifamily home sales shot up to $430,000, an increase of 22.9% from one year prior. Sales fell 14.2%. The supply of multifamily homes increased to a 1.5-month supply as well.
Homes under contract but not closed by the end of May fell among all housing types, indicating a continuation of moderating sales ahead. The days a property remained on the market also fell to 23 days for single-family homes, 20 days for multifamily homes, and 27 days for condominiums.
"The quick turnaround on transactions speaks to the number of cash sales in the market, which put further stress on first-time homebuyers.
"In the past six months, a mortgage of $300,000 has risen more than $500 per month. As home prices continue to escalate and mortgage rates climb, prospective Rhode Island homebuyers will retreat to the sidelines. While we welcome a reprieve from the inventory shortage, it's important that we don't diminish the economic benefits of the housing market which have buoyed up the economy in recent years," commented Del Borgo.
Months Supply: Click here for interactive display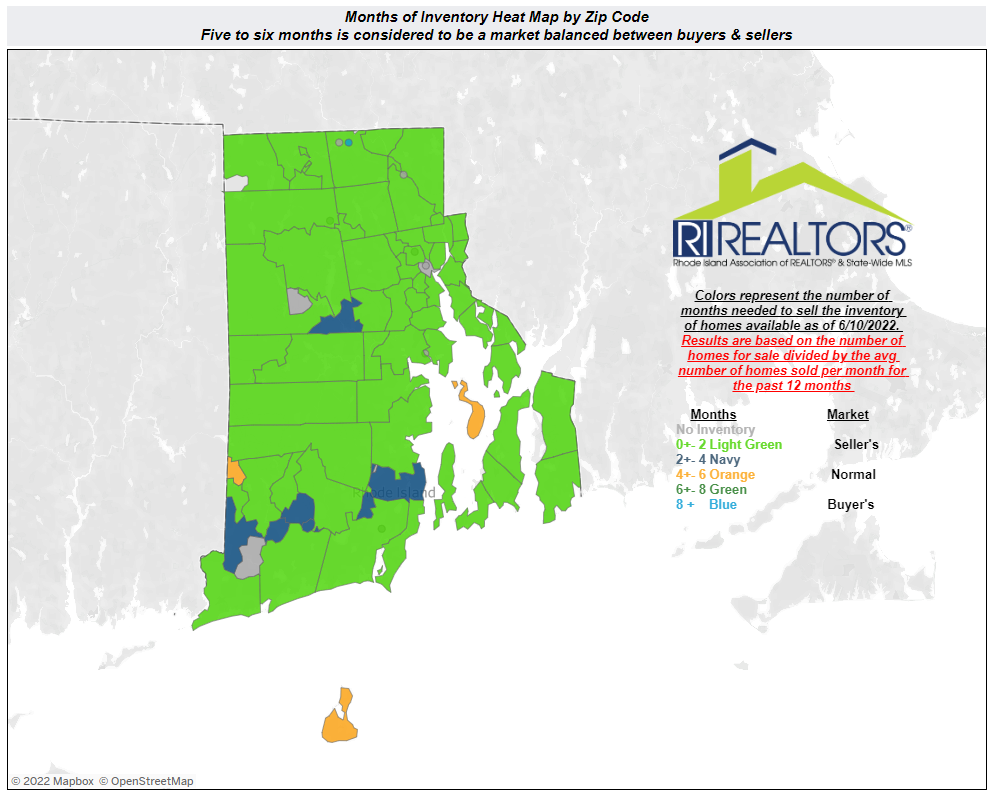 About the Rhode Island Association of REALTORS®
The Rhode Island Association of REALTORS®, one of the largest trade organizations in Rhode Island with more than 7,000 members in approximately 900 offices, has been serving Rhode Islanders since 1948. Collectively, RI REALTORS® transacted nearly $7.9 billion in residential real estate sales last year and nearly $8.1 billion in total transactions including rentals and commercial real estate. Advocating for Rhode Island's property owners, the Rhode Island Association of REALTORS® provides a facility for professional development, research and exchange of information among its members and to the public and government for the purpose of preserving the free enterprise system and the right to own real property.
The Association is one of more than 1,400 boards and associations that comprise the National Association of REALTORS® (NAR). The National Association of Realtors®, "The Voice for Real Estate," is America's largest trade association, representing over 1.4 million members involved in all aspects of the residential and commercial real estate industries and who subscribe to a strict Code of Ethics.
REALTOR® is a federally registered collective membership mark which identifies a real estate professional who is member of the NATIONAL ASSOCIATION OF REALTORS® and subscribes to its strict Code of Ethics.