Slow Start to R.I.'s Spring Home Selling Season
Warwick, R.I., April 19, 2022 – In March, Rhode Island's supply of single-family homes for sale continued to fall from a year earlier, causing prices to continue their double-digit ascent. According to the Rhode Island Association of Realtors, the supply of homes for sale last month was 26% less than 12 months earlier and 62% less than it was in March of 2020.
Last month, single-family home closing activity fell 10.2% from 12 months earlier. Pending sales – those under contract but not closed by the end of the month - also fell 9.9%, foretelling a continued slowdown in sales activity in the weeks to come. At $385,000, the median price of homes sold in March was 14.9% higher than 12 months earlier.
"While we did see a slight gain in the number of homes available for sale from February to March, unfortunately the supply remains critically low and the number of homes for sale has been falling year-over-year for some time. Since March of 2020 to last month, Rhode Island's single-family home inventory fell from 2328 listings to 888. And though the housing shortage was exacerbated by COVID, it had existed for several years before that.
"It's critically important that Rhode Island puts measures in place that allow for the construction of more housing, free from the barriers that impede development now. We need places for our workforce to live," said Agueda Del Borgo, President of the Rhode Island Association of Realtors.
The condominium sector saw more damaging trends last month with listings falling 48.5% from March 2021, sales dropping 19% and the median sales price rising 22% to $305,000.
Inventory dropped the most on the multifamily home front, falling 48.6% from March of 2021. Sales fell by 16.7% and median price rose 16.8% to $397,000.
"While the multifamily home market was a great avenue for first-time homeowners in the past, investors are making it extremely difficult to compete for these properties. Investors often offer cash or better financial terms, and the rising prices and interest rates are knocking potential buyers out of the running," said Del Borgo.
Sales statistics from the Rhode Island Association of Realtors are pulled from the Association's subsidiary, State-Wide Multiple Listing Service and reflect Realtor-assisted transactions.
Months Supply: Click here for interactive display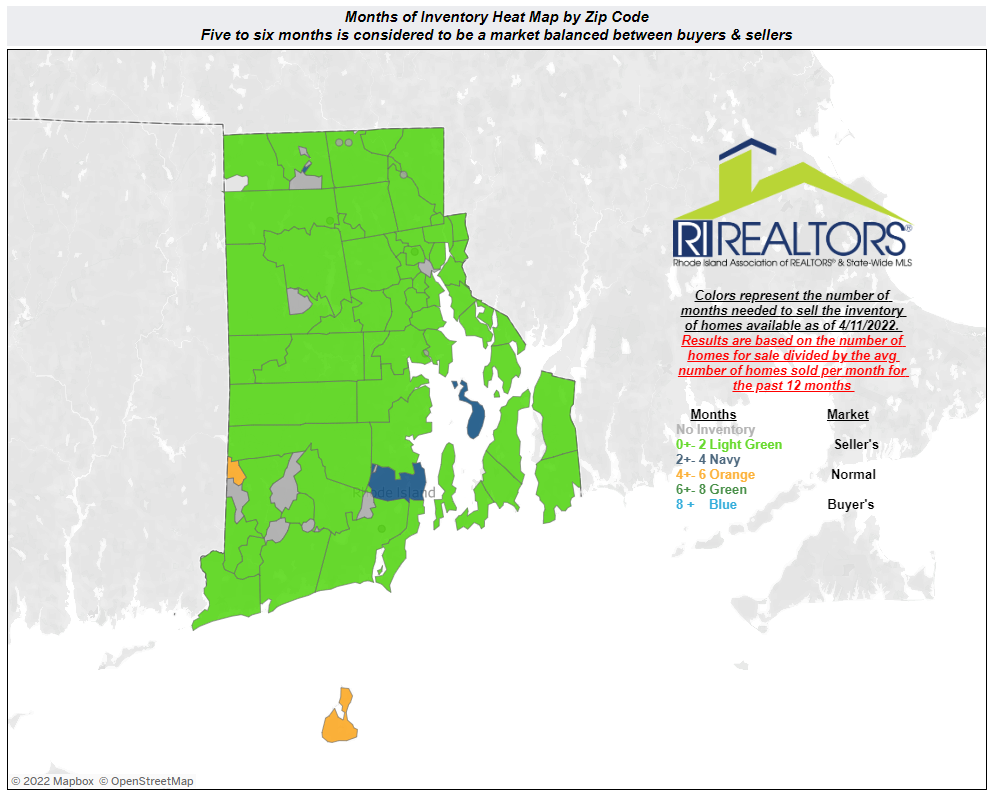 About the Rhode Island Association of REALTORS®
The Rhode Island Association of REALTORS®, one of the largest trade organizations in Rhode Island with more than 7,000 members in approximately 900 offices, has been serving Rhode Islanders since 1948. Collectively, RI REALTORS® transacted nearly $7.9 billion in residential real estate sales last year and nearly $8.1 billion in total transactions including rentals and commercial real estate. Advocating for Rhode Island's property owners, the Rhode Island Association of REALTORS® provides a facility for professional development, research and exchange of information among its members and to the public and government for the purpose of preserving the free enterprise system and the right to own real property.
The Association is one of more than 1,400 boards and associations that comprise the National Association of REALTORS® (NAR). The National Association of Realtors®, "The Voice for Real Estate," is America's largest trade association, representing over 1.4 million members involved in all aspects of the residential and commercial real estate industries and who subscribe to a strict Code of Ethics.
REALTOR® is a federally registered collective membership mark which identifies a real estate professional who is member of the NATIONAL ASSOCIATION OF REALTORS® and subscribes to its strict Code of Ethics.