RI housing market set to see continued strength
Warwick, RI --January 22, 2021 – The Rhode Island Association of Realtors released December and fourth quarter home sales statistics today, which portrayed skyrocketing activity in the Ocean State's housing market at the end of 2020.
The robust market pushed the inventory of single-family homes to new depths, leaving just a 1.4-month supply of homes for sale in December, 46 percent lower than that available one year earlier. Sales that went under contract last month rose nearly 50 percent, which assures Rhode Island's housing market a strong beginning in the new year as those pending contracts reach the closing table. Contracts completed in December were also up, rising 23 percent from the prior year.
The year ended with a median sales price of single-family homes in December of $325,000, a 14 percent gain from December 2019. The monthly median price rose year-over-year every month last year – nine of those months seeing double-digit increases.
"Last March, it would have been hard to imagine that the market would take off like it did. Considering what we went through in the first half of 2020, I think we should consider ourselves extremely lucky that housing helped sustain the economy through what was a pretty bleak time," said Leann D'Ettore, 2021 president of the Rhode Island Association of Realtors.
In December, the number of closings of both condominium and multifamily home sales rose by more than 39 percent year-over-year and the median sales price rose by double-digits. At $250,000, condominium sales saw an 11 percent gain and the median price of multifamily home sales increased nearly 19 percent, to $338,250.
Out-of-state buyers fuel market
While the number of buyers from out-of-state grew by 75 percent from the prior year, luxury homes held particular appeal for that market. December home sales of one million dollars or more purchased by those from outside of Rhode Island, rose 116 percent from December 2019.
In the last months of the year, significant gains in median price were seen throughout well-known coastal towns like Newport, Jamestown, Block Island, Westerly and Narragansett.
Months Supply: Click here for interactive display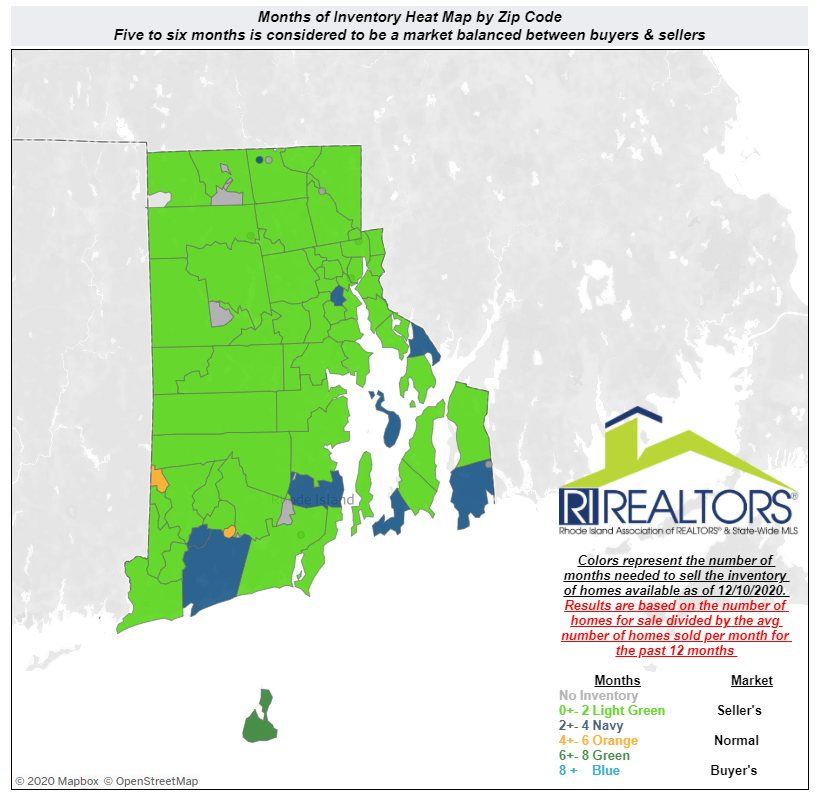 About the Rhode Island Association of REALTORS®
The Rhode Island Association of REALTORS®, one of the largest trade organizations in Rhode Island with more than 7,000 members in approximately 900 offices, has been serving Rhode Islanders since 1948. Collectively, RI REALTORS® transacted nearly $7.9 billion in residential real estate sales last year and nearly $8.1 billion in total transactions including rentals and commercial real estate. Advocating for Rhode Island's property owners, the Rhode Island Association of REALTORS® provides a facility for professional development, research and exchange of information among its members and to the public and government for the purpose of preserving the free enterprise system and the right to own real property.
The Association is one of more than 1,400 boards and associations that comprise the National Association of REALTORS® (NAR). The National Association of Realtors®, "The Voice for Real Estate," is America's largest trade association, representing over 1.4 million members involved in all aspects of the residential and commercial real estate industries and who subscribe to a strict Code of Ethics.
REALTOR® is a federally registered collective membership mark which identifies a real estate professional who is member of the NATIONAL ASSOCIATION OF REALTORS® and subscribes to its strict Code of Ethics.