RI single-family home sales fall from a year ago but remain strong
Warwick, R.I. – December 15, 2021 -- The median price of single-family homes sold in Rhode Island last month climbed 16.1 percent from 12 months earlier, to $375,000. Sales activity however, continued to fall for the fifth consecutive month. The number of closings fell by 8.2 percent, though those put under contract but not closed in November, rose 2.7 percent, an indication that future closing activity should increase. The Rhode Island Association of Realtors released the November sales statistics today, just days after Realtor.com released a 2022 economic forecast which predicted the Providence market would rank as the number six metropolitan nationwide in listing price appreciation and home sales growth next year.
"Though prices are escalating, houses are moving. Sales may have dropped from 12 months earlier, but they still hit a second-best record for November. Preliminary data for December shows that sales should continue to be strong through the remainder of the year," said Agueda Del Borgo, President of the Rhode Island Association of Realtors.
While tight inventory caused single-family home sales to decline, the shortage led buyers to other sectors of the market. Condominium sales rose by 11.7 percent and multifamily home closings increased 4.7 percent from November 2020. Both sectors also experienced an increase in median price. The median condominium price of $293,500 represented a 17.4 percent hike while the median price of multifamily homes rose to $385,000, a jump of $16.6 percent. Both property types also saw a year-over-year increase in contracts signed but not completed in November, the bulk of which should close in December or January.
"With the threat of climbing interest rates and rising rents, buyers are focused on securing a home with a steady mortgage payment to help stabilize expenses. They're often competing with out of state buyers who are turning to Rhode Island because our market is still a bargain, even with the rise in prices that we've seen. The median single-family home price in Massachusetts last month was $520,000. Compare that to our median price of $375,000, add in the allure of coastal living and close proximity to Boston, and it's easy to understand Rhode Island's appeal. But, with the increased number of those buyers adding to the depletion of our housing inventory, there's much work to be done to shore up our housing stock," commented Del Borgo.
November data indicates that 24 percent of all Realtor-assisted property sales involved buyers from other states. In the luxury market comprised of properties sold for $1 million or more, 53 percent of sales derived from out of state buyers.
Inventory remained low among all property types. Single-family home inventory was 20.7 percent below that of last year, condominium inventory was 38 percent lower and multifamily properties available for sale declined by 33.4 percent.
Months Supply: Click here for interactive display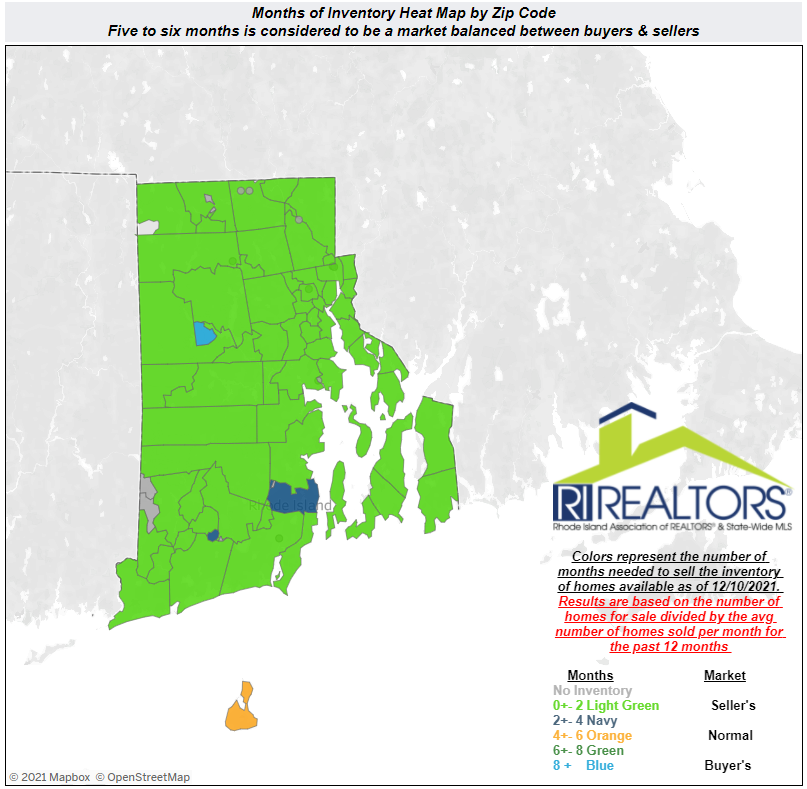 About the Rhode Island Association of REALTORS®
The Rhode Island Association of REALTORS®, one of the largest trade organizations in Rhode Island with more than 7,000 members in approximately 900 offices, has been serving Rhode Islanders since 1948. Collectively, RI REALTORS® transacted nearly $7.9 billion in residential real estate sales last year and nearly $8.1 billion in total transactions including rentals and commercial real estate. Advocating for Rhode Island's property owners, the Rhode Island Association of REALTORS® provides a facility for professional development, research and exchange of information among its members and to the public and government for the purpose of preserving the free enterprise system and the right to own real property.
The Association is one of more than 1,400 boards and associations that comprise the National Association of REALTORS® (NAR). The National Association of Realtors®, "The Voice for Real Estate," is America's largest trade association, representing over 1.4 million members involved in all aspects of the residential and commercial real estate industries and who subscribe to a strict Code of Ethics.
REALTOR® is a federally registered collective membership mark which identifies a real estate professional who is member of the NATIONAL ASSOCIATION OF REALTORS® and subscribes to its strict Code of Ethics.