Sales and Median Price Continues Ascent in December's R.I. Housing Market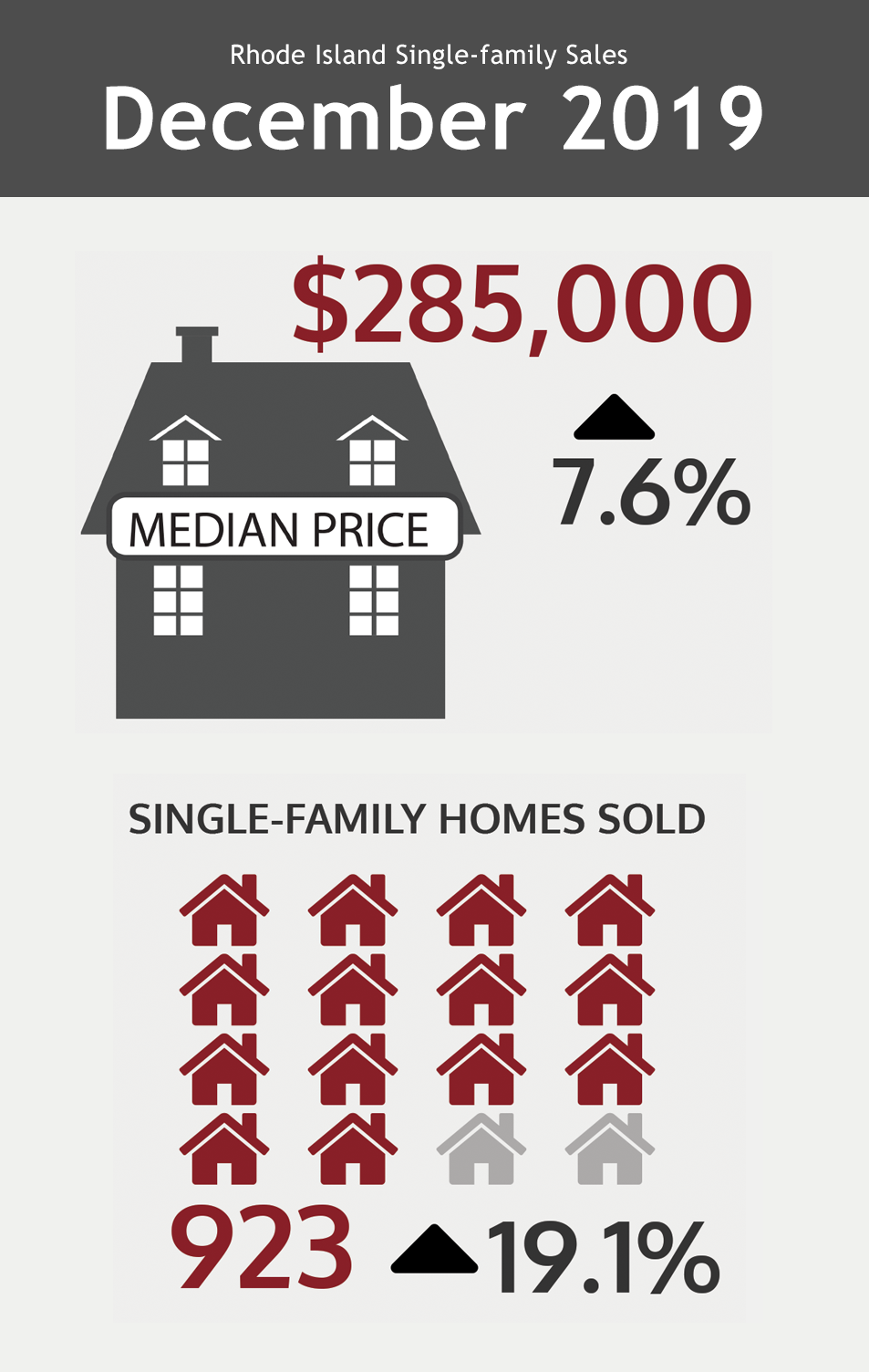 View full infographic »
Warwick, R.I. – January 16, 2020 – Rhode Island's single-family housing market ended the year on a high note last month with an increase in both sales and median price year-over-year. Closed transactions in December were 19.1 percent higher than a year earlier. The median sales price of $285,000 represented an increase of 7.6 percent from December of 2018. According to data from the Rhode Island Association of Realtors and its subsidiary, State-Wide Multiple Listing Service, January of 2017 was the last time the monthly median sales price of single-family homes showed an annual decline in the Ocean State.
Condominium sales followed suit, with transactions increasing 11.9 percent from the prior year and the median sales price rising to $225,000, an increase of 4.4 percent.
"There's no doubt about it, 2019 was another strong year for real estate, hindered only be lack of inventory," said Shannon Buss, president of the Rhode Island Association of Realtors. "Economic conditions remain positive and interest rates remain low so we're cautiously optimistic about the housing market going into 2020."
Sales remained stable in the multifamily home market, rising just .6 percent from one year earlier. At, $285,000, the median price of those sales increased 9.9 percent, the highest monthly median price since the boom of 2006.
"Low inventory is definitely driving prices upward, particularly in the multifamily home sector which had only a 2.5-month supply of properties on the market at the end of last year.
"Last year, the supply of single-family homes declined each month from May of 2019 on when compared to the previous year. This year, hopefully more homeowners will recognize that market conditions are ideal for a move so that we can see a reversal of the shrinking inventory trend. We expect that sellers who list their house in 2020 will get a decent price for their property and enjoy low interest rates when they move on to their next home," said Buss.
The Rhode Island Association of Realtors will release year-end statistics on January 22nd.
Months Supply: Click here for interactive display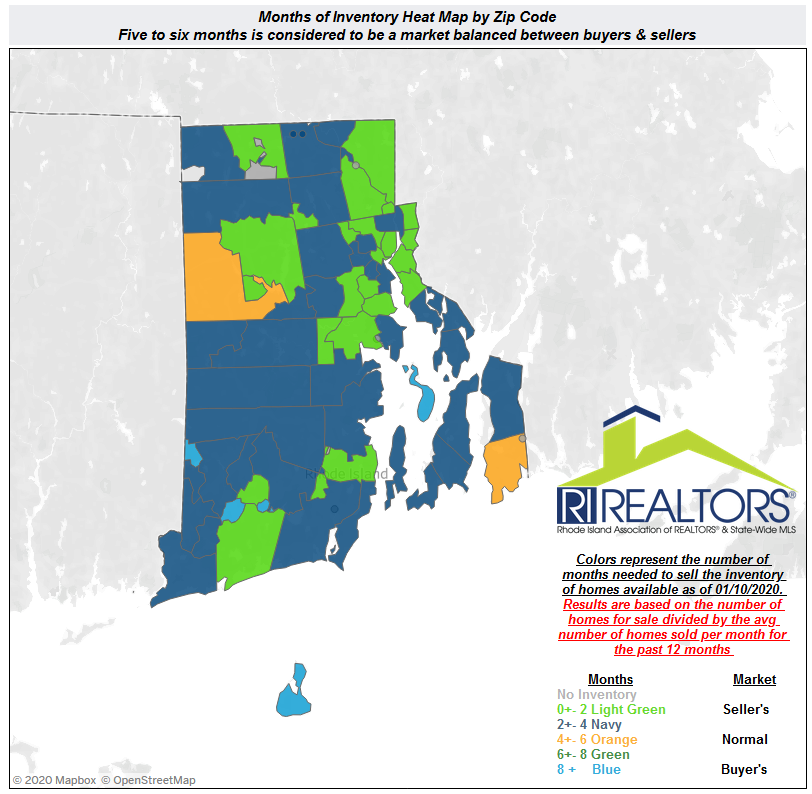 About the Rhode Island Association of REALTORS®
The Rhode Island Association of REALTORS®, one of the largest trade organizations in Rhode Island with more than 6,000 members in approximately 900 offices, has been serving Rhode Islanders since 1948. Collectively, RI REALTORS® transacted nearly $5.4 billion in real estate sales last year. Advocating for Rhode Island's property owners, the Rhode Island Association of REALTORS® provides a facility for professional development, research and exchange of information among its members and to the public and government for the purpose of preserving the free enterprise system and the right to own real property.
The Association is one of more than 1,400 boards and associations that comprise the National Association of REALTORS® (NAR). The National Association of Realtors®, "The Voice for Real Estate," is America's largest trade association, representing over 1.4 million members involved in all aspects of the residential and commercial real estate industries and who subscribe to a strict Code of Ethics.
REALTOR® is a federally registered collective membership mark which identifies a real estate professional who is member of the NATIONAL ASSOCIATION OF REALTORS® and subscribes to its strict Code of Ethics.