Single-family Home Prices Continue Upward Trend While Closing Activity Drops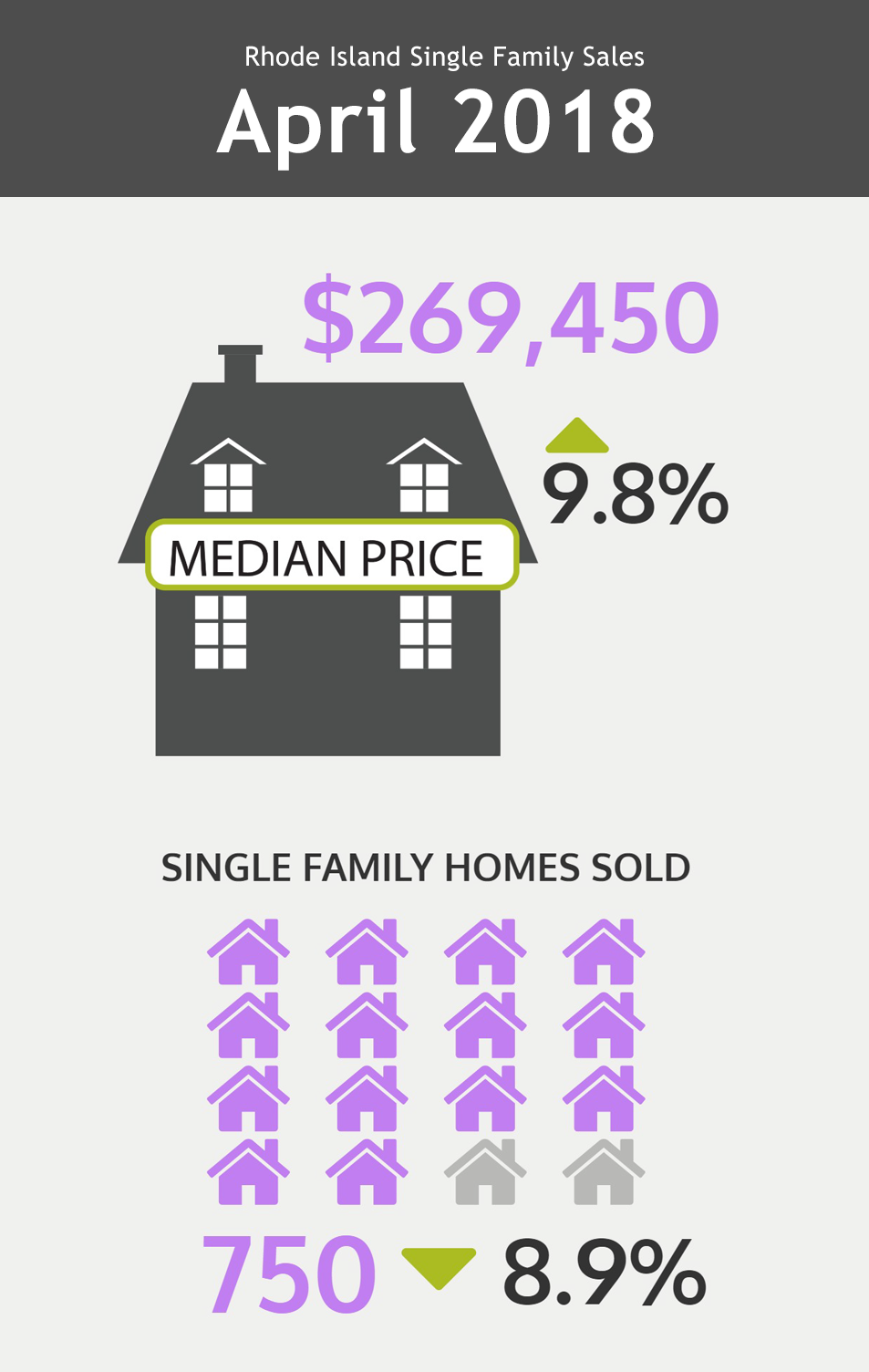 View full infographic »
Warwick, RI -- May 25, 2018 - Rhode Island's median single-family home price rose 10 percent at the beginning of the second quarter while closing activity began to constrict, falling nine percent compared to April of 2017. The supply of homes for sale fell to 3190 last month, from 3569 12 months earlier.
"There's no doubt that the lack of inventory is hindering sales but thankfully, the supply of homes on the market has been rising since the beginning of the year, as we expected it would. Unfortunately, we're not where we need to be yet but we're heading in the right direction," said Joe Luca, 2018 president of the Rhode Island Association of Realtors.
The year started out with a 2.7-month supply of homes for sale which rose to a 3.5-month supply by last month. A six-month supply is considered to be a housing market that is balanced between supply and demand.
Sales of single-family homes in process but not yet closed in April fell by 28 percent, a sign of weakening sales in the months ahead.
Condo Sales See Opposite Trends
The condominium sector saw opposite trends in April with a decrease in the year-over-year median sales price of 12 percent and a dramatic 25 percent increase in sales activity. The number of condominiums on the market fell six percent since April of 2017 and pending sales fell two percent. Trends in the condo market often trail behind those seen in single-family home sales and the decrease in pending sales could be a sign of slowing closing activity in the next few months.
Multifamily Property Sales Strong on All Fronts
The multifamily property market saw significant gains in both median price and sales activity. April's median sales price reached $229,500, a 19 percent rise from a year earlier and sales also continued their upward trend, with an increase of seven percent. Unlike the single-family home and condo markets, the supply of multifamily properties on the market increased from a year ago, rising seven percent. Pending sales decreased 16 percent.
"The lack of competition in most of the marketplace is creating bidding wars and the resulting rise in prices is impacting affordability for many 'would-be' buyers. People still believe in the dream of home ownership but achieving the reality is becoming more difficult. Student loan debt, new construction and more programs for first-time buyers are all things that we need to be looking at if we hope to help the market get back into balance," said Luca.
Months Supply: Click here for interactive display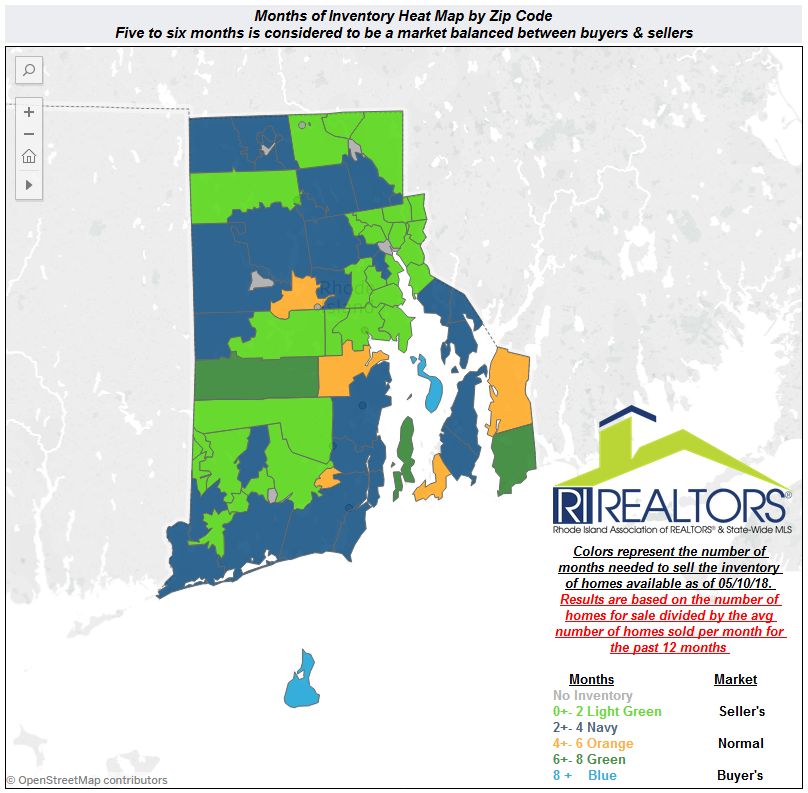 About the Rhode Island Association of REALTORS®
The Rhode Island Association of REALTORS®, one of the largest trade organizations in Rhode Island with more than 5,000 members in approximately 850 offices, has been serving Rhode Islanders since 1948. Collectively, RI REALTORS® transacted nearly $5.1 billion in real estate sales last year. Advocating for Rhode Island's property owners, the Rhode Island Association of REALTORS® provides a facility for professional development, research and exchange of information among its members and to the public and government for the purpose of preserving the free enterprise system and the right to own real property.
The Association is one of more than 1,400 boards and associations that comprise the National Association of REALTORS® (NAR). The National Association of Realtors®, "The Voice for Real Estate," is America's largest trade association, representing over 1.1 million members involved in all aspects of the residential and commercial real estate industries and who subscribe to a strict Code of Ethics.
REALTOR® is a federally registered collective membership mark which identifies a real estate professional who is member of the NATIONAL ASSOCIATION OF REALTORS® and subscribes to its strict Code of Ethics.