May Median Price Hits Ten+ Year High in R.I.s Housing Market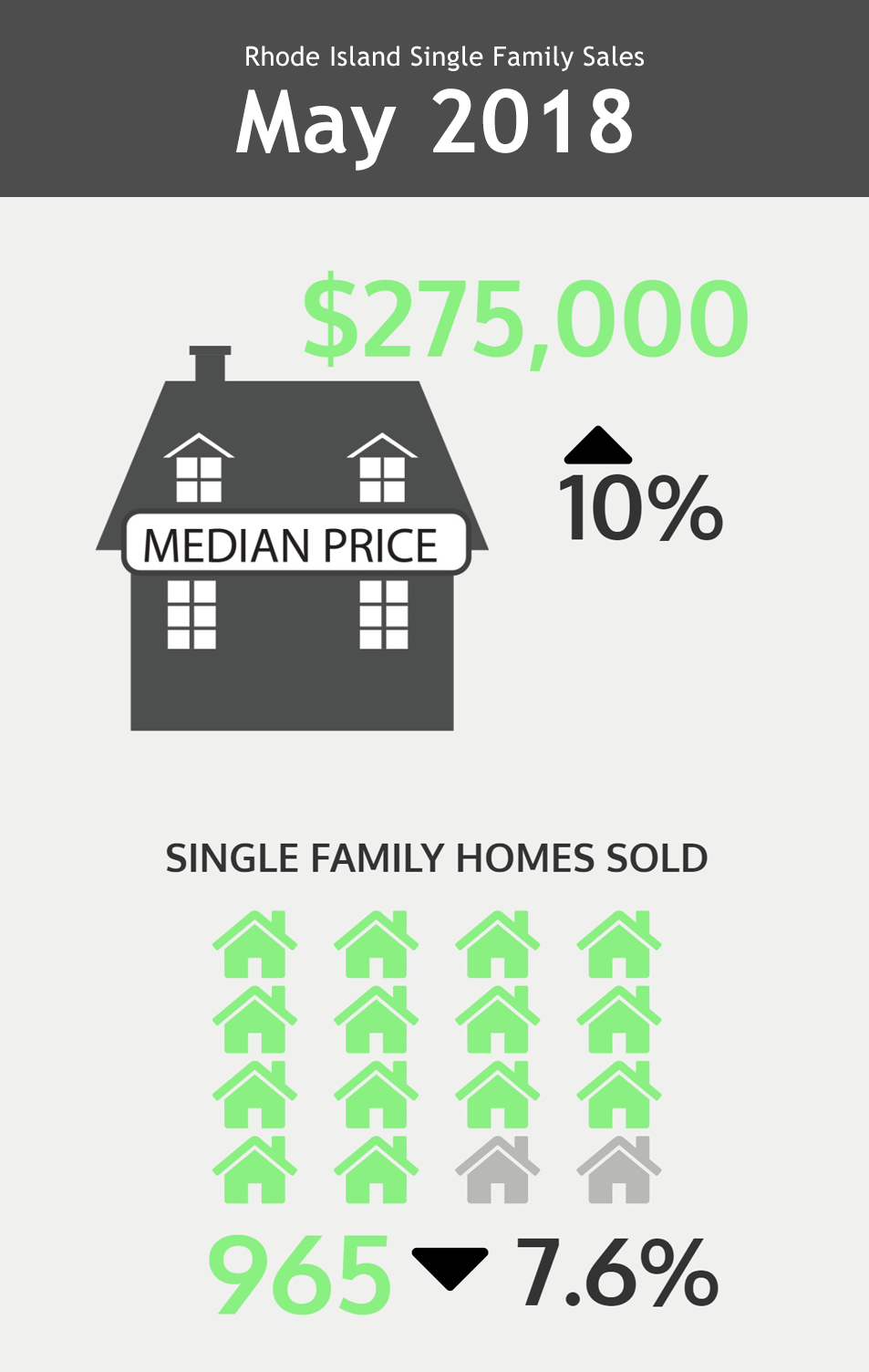 View full infographic »
Warwick, RI – June 20, 2018…The median price of single-family homes sold in Rhode Island reached $275,000 last month, a ten percent increase over May of 2017. Rhode Island has not reached a higher monthly median sales price since August 2007 according to a report released today by the Rhode Island Association of Realtors® and its subsidiary, State-Wide Multiple Listing Service.
Single-family properties remained on the market just 49 days before selling, the shortest time frame in nearly 14 years. The number of homes for sale continued to fall year-over-year, continuing a trend of tightening inventory which began in 2015. The diminished supply resulted in a 7.6 percent drop in sales compared to a year earlier.
"Competition is fierce and buyers are finding themselves in a race to the finish line. Inventory is so tight that properties are being sold as soon as they go on the market, often in multiple bid situations," said Joe Luca, President of the Rhode Island Association of Realtors. "Fortunately, the market isn't being fueled by lax lending rules as we've seen in the past – just by pent-up demand."
Condo Market Still Strong
The median condominium sales price rose to $221,000 in May, a 7.8 percent gain compared to 12 months earlier. Like the single-family home market, listings sold quickly and inventory continued to drop, falling 5.7 percent from May 2017. In contrast to the single-family home market however, sales activity in the condominium sector has been up over last year throughout 2018. Completed transactions increased 15.1 percent last month.
Investor-Driven Multifamily Property Sector Sees Increase in Inventory
The median price of multifamily property sales has skyrocketed, rising roughly 20 percent or more from a year earlier every month this year. A 21.2 percent increase from the prior year brought May's median sales price to $241,107. In stark contrast to the single-family home and condo markets, inventory increased 16.1 percent since the same month last year. Sales activity has also been strong with May marking the sixth consecutive month of increased sales.
Months Supply: Click here for interactive display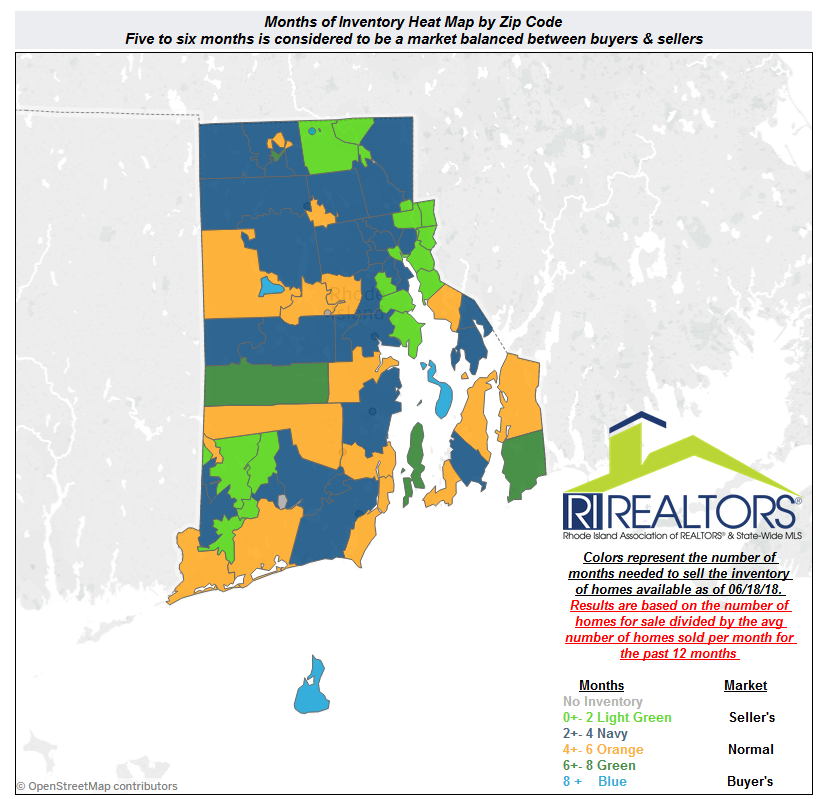 About the Rhode Island Association of REALTORS®
The Rhode Island Association of REALTORS®, one of the largest trade organizations in Rhode Island with more than 5,000 members in approximately 850 offices, has been serving Rhode Islanders since 1948. Collectively, RI REALTORS® transacted nearly $5.1 billion in real estate sales last year. Advocating for Rhode Island's property owners, the Rhode Island Association of REALTORS® provides a facility for professional development, research and exchange of information among its members and to the public and government for the purpose of preserving the free enterprise system and the right to own real property.
The Association is one of more than 1,400 boards and associations that comprise the National Association of REALTORS® (NAR). The National Association of Realtors®, "The Voice for Real Estate," is America's largest trade association, representing over 1.1 million members involved in all aspects of the residential and commercial real estate industries and who subscribe to a strict Code of Ethics.
REALTOR® is a federally registered collective membership mark which identifies a real estate professional who is member of the NATIONAL ASSOCIATION OF REALTORS® and subscribes to its strict Code of Ethics.