2017 Ends on a High Note with Home Prices Rising in Rhode Island
View full infographic »
Warwick, RI, January 31, 2018 – The median price of Rhode Island single-family homes sales was $255,000 in December, an 8 percent increase from 12 months earlier according to statistics recently released by the Rhode Island Association of Realtors. Sales activity stayed relatively stable, falling less than one percent. There were 918 single-family home sales sold in the Ocean State last December compared to 927 in December of 2016.
With just 2619 single-family homes on the market in December, inventory fell to the lowest point in nearly 13 years. The low supply coupled with rising prices resulted in a 17 percent decrease in contract activity, an indication of a moderating market in the year ahead.
"We could see sales starting to temper this year, though we still expect strong activity. When comparing 2017 sales to the record-breaking sales we saw in 2016, a dip from year to year doesn't spell disaster. It just means our market is coming back into balance," said Joseph Luca, President of the Rhode Island Association of Realtors.
The majority of the Rhode Island housing market favored sellers throughout 2017. Going into 2018, Block Island and Little Compton, R.I. were the only Rhode Island towns with more than six months-worth of inventory, an indication of supply outweighing demand. The state overall had less than three months of supply, portraying a significant inventory shortage. Industry experts typically cite a balanced market as one with five to six months of inventory.
The median sales price of condominiums sold in Rhode Island also saw a healthy gain in December, rising to $231,000 from $205,400 in December of 2016. Sales activity fell 6 percent while the number of condos for sale fell 13 percent. Contract activity at the end of the year however, climbed 2.5 percent from 12 months earlier.
Like the single-family home and condominium sectors of the market, the median price of multifamily properties also climbed markedly, rising 11 percent to $225,000. Unlike other areas of the market however, sales activity was robust, rising 39 percent from December of 2016, despite inventory that was at its lowest point since the Association began tracking the data in 2008. Heavily influenced by investors, the multifamily home market remains solid thanks to the improving economy and growing consumer confidence.
Statistics released by the Rhode Island Association of Realtors (RIAR) are pulled from the State-Wide Multiple Listing Service, a RIAR subsidiary which tracks all Realtor-assisted transactions in Rhode Island.
Months Supply: Click here for interactive display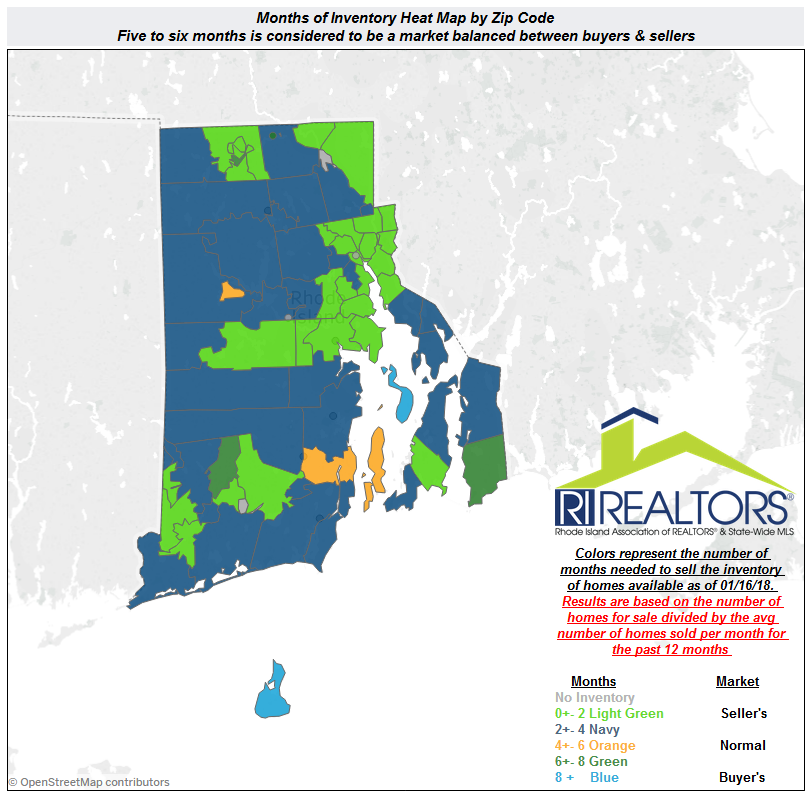 About the Rhode Island Association of REALTORS®
The Rhode Island Association of REALTORS®, one of the largest trade organizations in Rhode Island with more than 5,000 members in approximately 850 offices, has been serving Rhode Islanders since 1948. Collectively, RI REALTORS® transacted nearly $5.1 billion in real estate sales last year. Advocating for Rhode Island's property owners, the Rhode Island Association of REALTORS® provides a facility for professional development, research and exchange of information among its members and to the public and government for the purpose of preserving the free enterprise system and the right to own real property.
The Association is one of more than 1,400 boards and associations that comprise the National Association of REALTORS® (NAR). The National Association of Realtors®, "The Voice for Real Estate," is America's largest trade association, representing over 1.1 million members involved in all aspects of the residential and commercial real estate industries and who subscribe to a strict Code of Ethics.
REALTOR® is a federally registered collective membership mark which identifies a real estate professional who is member of the NATIONAL ASSOCIATION OF REALTORS® and subscribes to its strict Code of Ethics.