Low Inventory Drives Median Price of R.I. Home Sales Up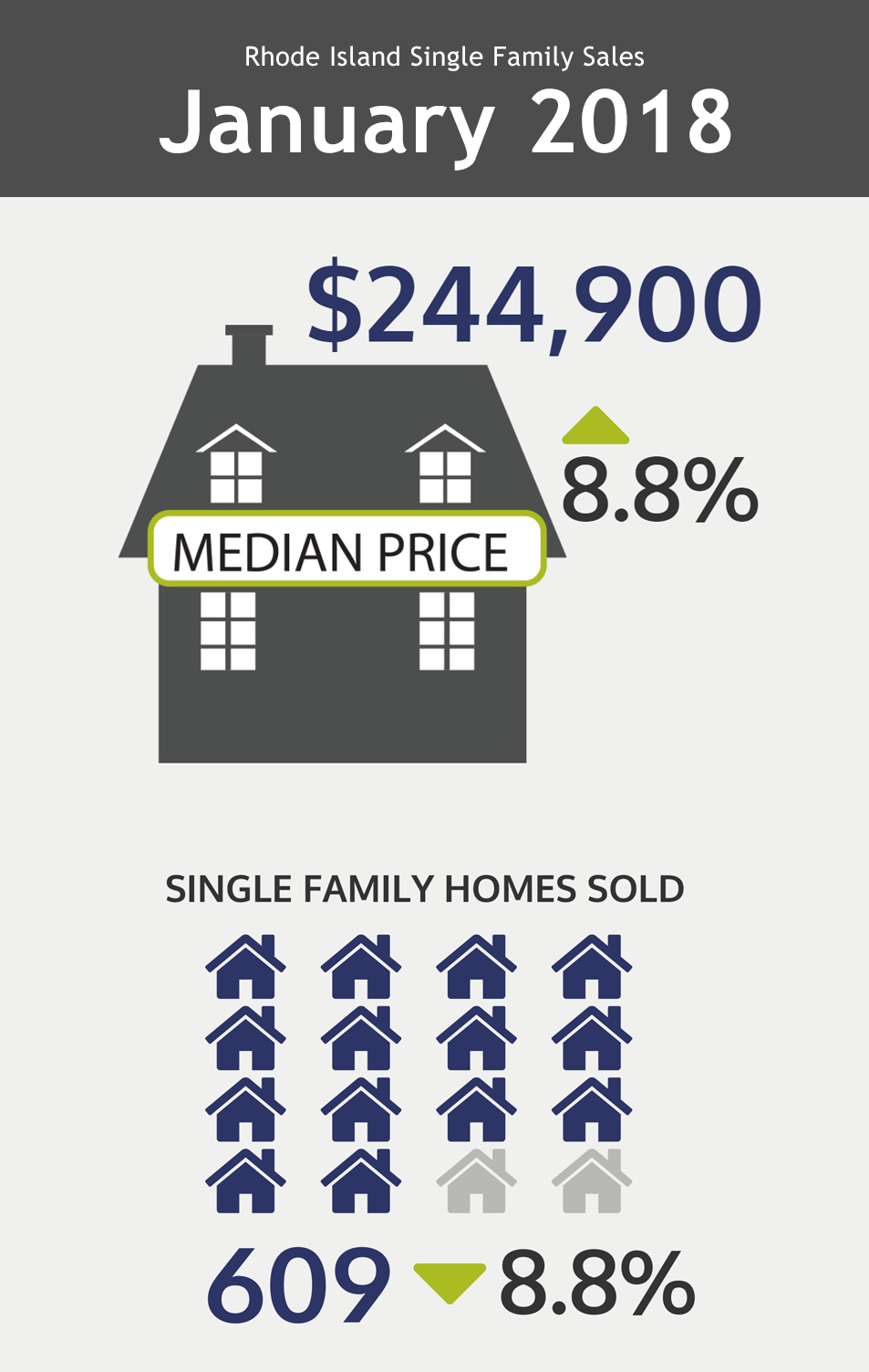 View full infographic »
Warwick, RI – February 22, 2018 -- A diminishing supply of homes for sale continues to push prices upward in Rhode Island's single-family home market. At $244,900, January's median sales price was nine percent higher than that seen a year earlier.
Last month's closing activity dropped 8.8 percent from a year ago and pending sales – those under contract but not closed – dropped 33 percent year-over-year.
With just 2497 single-family homes on the market last month, Rhode Island had less than a three-month supply of listings in January, resulting in a single-family home market that significantly favored sellers. The diminishing supply is clearly hindering sales activity.
"People who have been thinking about selling should give it serious consideration right now. The lack of competition in the marketplace is hiking prices so sellers are realizing more profit. And, when buying their next home, those same sellers have been able to take advantage of low interest rates that are boosting affordability.
"With historically low inventory and interest rates that are just beginning to climb slightly, it's a great time to sell, but you must be prepared to move quickly when competing for your next home. There are still great buys out there, but buyers don't have the luxury of time. Preparation and quick decisions are a must," said Joe Luca, President of the Rhode Island Association of Realtors.
Median price rose 20 percent to $225,000 in the multifamily property sector and closing activity rose 3.6 percent year-over-year. Pending sales dropped 18 percent from 12 months earlier.
Among condominium sales, the median sales price of units sold last month rose 15.6 percent from January of 2017, to $215,000. Sales activity climbed 11.5 percent while pending sales decreased 7.7 percent.
Months Supply: Click here for interactive display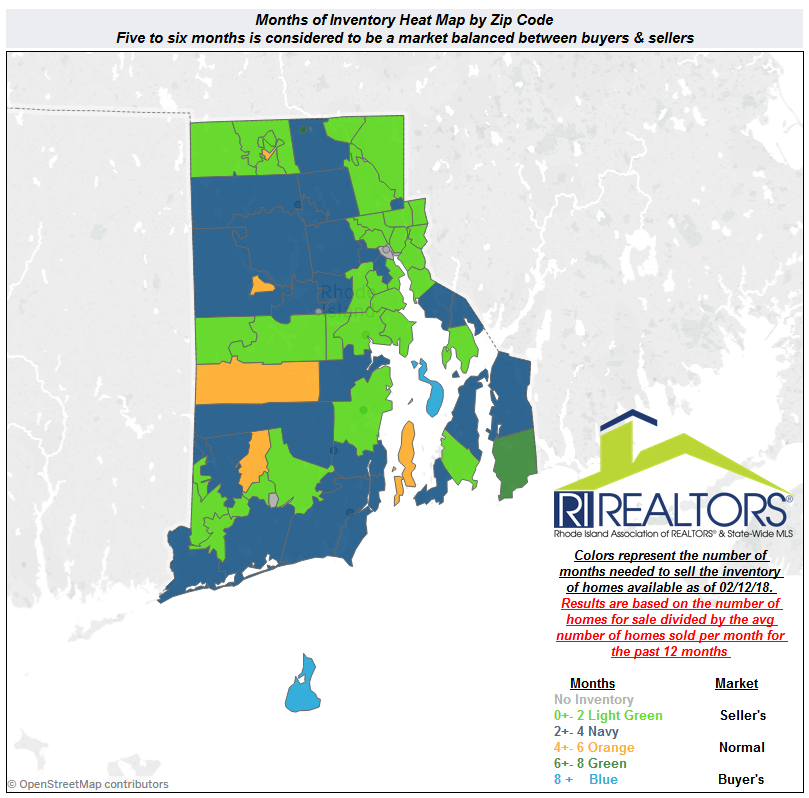 About the Rhode Island Association of REALTORS®
The Rhode Island Association of REALTORS®, one of the largest trade organizations in Rhode Island with more than 5,000 members in approximately 850 offices, has been serving Rhode Islanders since 1948. Collectively, RI REALTORS® transacted nearly $5.1 billion in real estate sales last year. Advocating for Rhode Island's property owners, the Rhode Island Association of REALTORS® provides a facility for professional development, research and exchange of information among its members and to the public and government for the purpose of preserving the free enterprise system and the right to own real property.
The Association is one of more than 1,400 boards and associations that comprise the National Association of REALTORS® (NAR). The National Association of Realtors®, "The Voice for Real Estate," is America's largest trade association, representing over 1.1 million members involved in all aspects of the residential and commercial real estate industries and who subscribe to a strict Code of Ethics.
REALTOR® is a federally registered collective membership mark which identifies a real estate professional who is member of the NATIONAL ASSOCIATION OF REALTORS® and subscribes to its strict Code of Ethics.