R.I.'s Housing Market Shows Strong Price Gains in First Quarter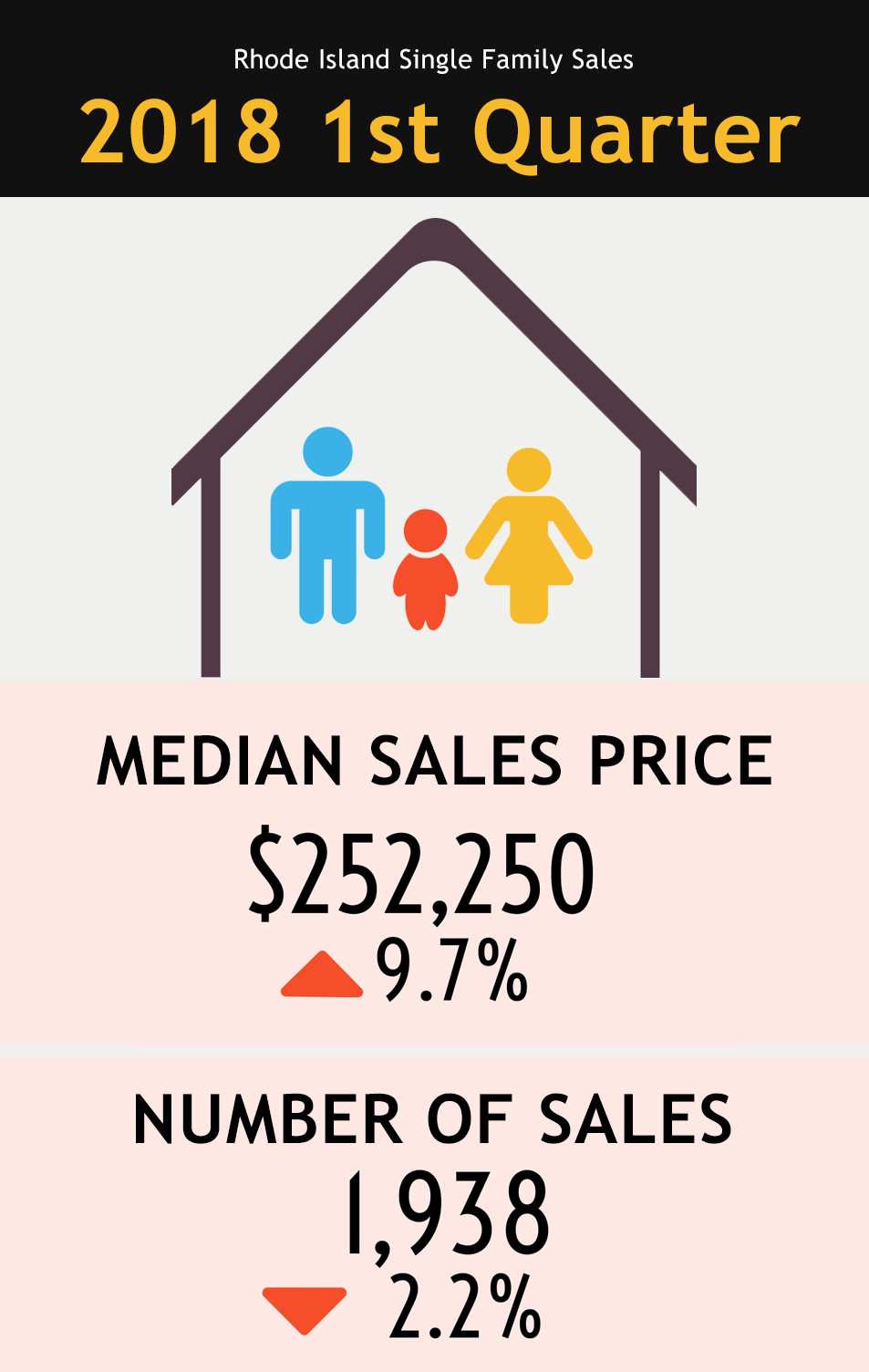 View full infographic »
Warwick, R.I. – April 25, 2018…The Rhode Island Association of Realtors reported that the median price of single-family home sales increased 9.7 percent from the first quarter of 2017 to $252,250. Nineteen hundred and thirty-eight (1938) homes sold last quarter, down from 1982 sales in the first quarter of last year. Single-family home sales activity fell or stayed the same year over year in all but 17 of the 40 districts measured.
The median sales price of multifamily properties also saw a significant increase. At $225,000, that sector's median price was 25 percent higher than that seen in the first quarter of 2017. Sales activity also increased, rising 3 percent.
"There's no doubt about it. Homeowners who decide to sell are seeing good profits because their equity rose substantially over the past few years," said Joe Luca, 2018 president of the Rhode Island Association of Realtors. "When asked what the three most important words were in real estate, the answer most often given is 'location, location, location.' Now it could be argued that it could be 'timing, timing, timing.' The market is hot for sellers right now."
The year also started off strong in the condominium market. The first quarter median sales price rose 7.7 percent to $210,000 and sales activity increased 7.3 percent.
Though Rhode Island's housing market has not yet hit the peak reached before the housing downturn, strong price gains are affecting affordability, particularly among first-time homebuyers.
"Last week, the National Association of Realtors and Realtor.com released its Realtor Affordability Score for the month of March which listed Rhode Island among the states with the lowest housing affordability. Rhode Island's population earning the median income could afford only 23 percent of the state's active housing inventory for sale last month. Jobs and wages have increased but there's no doubt that we also need additional properties on the market to help more people realize the dream of home ownership," said Luca.
About the Rhode Island Association of REALTORS®
The Rhode Island Association of REALTORS®, one of the largest trade organizations in Rhode Island with more than 5,000 members in approximately 850 offices, has been serving Rhode Islanders since 1948. Collectively, RI REALTORS® transacted nearly $5.1 billion in real estate sales last year. Advocating for Rhode Island's property owners, the Rhode Island Association of REALTORS® provides a facility for professional development, research and exchange of information among its members and to the public and government for the purpose of preserving the free enterprise system and the right to own real property.
The Association is one of more than 1,400 boards and associations that comprise the National Association of REALTORS® (NAR). The National Association of Realtors®, "The Voice for Real Estate," is America's largest trade association, representing over 1.1 million members involved in all aspects of the residential and commercial real estate industries and who subscribe to a strict Code of Ethics.
REALTOR® is a federally registered collective membership mark which identifies a real estate professional who is member of the NATIONAL ASSOCIATION OF REALTORS® and subscribes to its strict Code of Ethics.