January housing market remains strong but out-of-state buyer interest wanes
Warwick, RI -- February 18, 2021 – Single-family home sales continued to rise year-over-year according to January sales data released today by the Rhode Island Association of Realtors, though at a more moderate rate. The Ocean State saw a seven percent increase in sales compared to January 2020, following four months of double-digit growth.
Sales were constrained by a lack of inventory. The supply of homes for sale was roughly half of what was available a year ago, at which time, a shortage already existed. As of January, it would have taken only 1.3 months to deplete the entire supply of Rhode Island homes for sale, a new low. A six-month supply is typically considered a market balanced between seller supply and buyer demand.
The median price of single-family sales rose to $334,000 from $296,750 12 months earlier, a 12.6 percent hike.
"January was the busiest month on record in terms of single-family home sales at the beginning of the year. It was also the month we had the lowest inventory of homes for sale. If anyone is thinking of moving, this year would be the ideal time to do it," said Leann D'Ettore, president of the Rhode Island Association of Realtors.
Condominium sales were up by 29.5 percent in January from 12 months earlier, while the median sales price climbed 7.8 percent to $249,450. A 2.2-month supply of condos remained on the market last month, giving first-time homebuyers, empty nesters, and others, slightly more choice than that available in the single-family home market, at a lower price point.
After a boom in December, multifamily home sales stabilized, falling 1.9 percent year-over-year. The median price of $330,000 represented a 13.8 percent increase from January 2020. In contrast to other sectors of the market, inventory grew by 8.3 percent.
After seeing out-of-state buyers flock to Rhode Island last year, the first month of the New Year experienced a slowdown in cross border sales. Of the top states sending buyers to Rhode Island last year – Massachusetts, New York and Connecticut - only Massachusetts buyers showed increased year-over-year activity in January, with 54 percent more buyers purchasing a home in Rhode Island last month than in the previous year. After shooting up 260 percent in December, buyers from New York fell 4 percent last month.
Months Supply: Click here for interactive display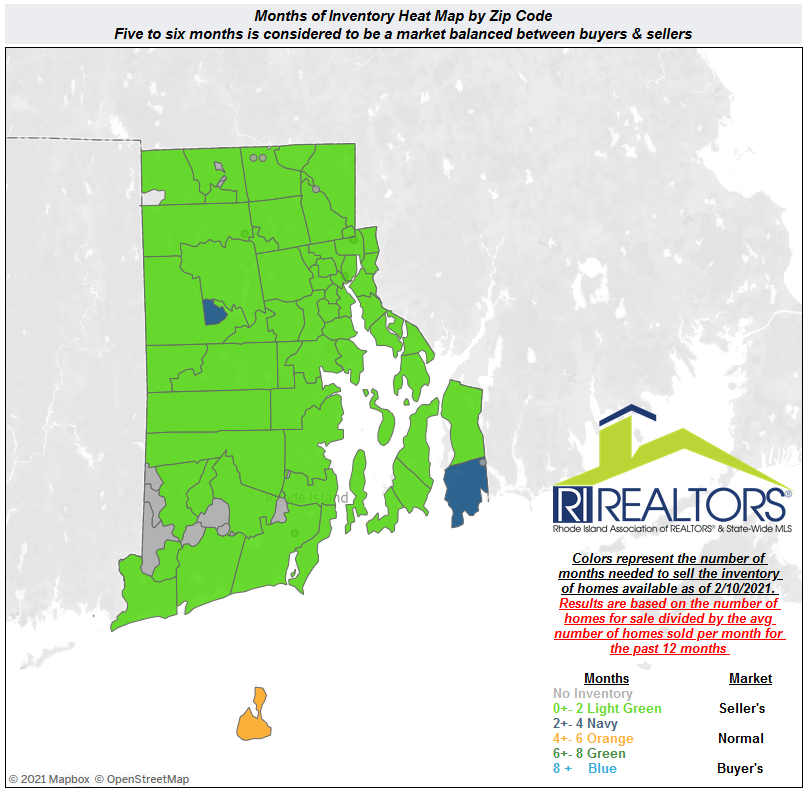 About the Rhode Island Association of REALTORS®
The Rhode Island Association of REALTORS®, one of the largest trade organizations in Rhode Island with more than 5,000 members in nearly 1,000 offices, has been serving Rhode Islanders since 1948. Advocating for Rhode Island's property owners, the Rhode Island Association of REALTORS® provides a facility for professional development, research and exchange of information among its members and to the public and government for the purpose of preserving the free enterprise system and the right to own real property. Last year, RI Realtors transacted $6.9 billion in residential real estate sales and $7.1 billion in total sales and rentals including commercial transactions.
The Association is one of more than 1,500 boards and associations that comprise the National Association of REALTORS® (NAR). The National Association of Realtors®, "The Voice for Real Estate," is America's largest trade association, representing over 1.5 million members involved in all aspects of the residential and commercial real estate industries and who subscribe to a strict Code of Ethics.
REALTOR® is a federally registered collective membership mark which identifies a real estate professional who is member of the NATIONAL ASSOCIATION OF REALTORS® and subscribes to its strict Code of Ethics.